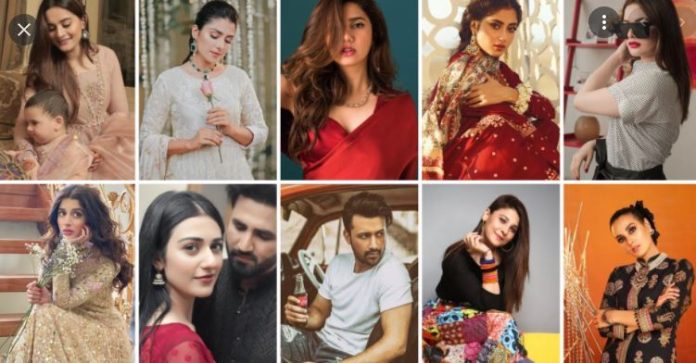 Nowadays, social media has become the polar opposite of popularity. Now and again, a new technology trend strikes our gadgets, and we learn a lot of things we didn\'t know before. Social networking is a fantastic way to get your voice, actions, and lifestyle before a larger audience. Let\'s check who is most followers on instagram in Pakistan in 2022
Pakistan Celebrities
The Digital Race has infiltrated Pakistani celebrities\' lives, and you won\'t believe how many fans they have on social media platforms. To keep their followers up to date, all of your favorite celebrities post everything on their official accounts.
When we talk about celebrities and well-known public figures and their lifestyles, people naturally want to look at their Instagram pages to see what they do daily. This social media platform is a vital instrument for gaining fans and followers when celebrities publish photographs, videos, and other visual stories. In addition, admirers no longer have to wait in line to meet and communicate with celebrities; instead, you may go live and interact directly with your admirers using this wonderful device.
Endorse Of Brand
Fans and businesses alike have risen to the challenge of abandoning outdated marketing methods. Endorsing various products becomes simple with the help of social media. Brands approach celebrities and well-known public figures to endorse their products by posting on their social media sites. Not just international celebrities but also Pakistani celebrities were at the forefront of maximizing Instagram\'s capabilities. Our Pakistani actresses, in particular, captivate millions of people and have a most followers on instagram in pakistan.
They truly share everything, from high-end items to eating out, visiting friends, and even sleeping! Furthermore, they are not scared to speak their minds, which is why they receive full marks for creativity, distinctive points of view, and boldness.
1 – Ayeza Khan – 9.6 Million
We\'re blown away by the fact that Ayeza Khan, the star of \'Meray Pass Tum Ho,\' has achieved 9.6 million views in such a short period. Even though Ayeza has never been a top actress, this ARY drama series has opened many doors for her future career. She has been in several television dramas, the most recent being the Rom-Com drama \"Chupke Chupke.\" However, due to severe competition from other actresses like Mahira Khan, Saba Qamar, and Iqra Aziz, she was usually unable to win awards.
Also Read: Viral Video: Bride Does Pushups Wearing Wedding Lehenga
2 – Aiman Khan – 8.7 Million
A young Pakistani television actress debuted in the drama series \"Mohabbat Bhaar Mai Jaye\" in 2012. Aiman Khan topped the Instagram charts with the second-highest number of followers among Pakistani actors at such a young age. Her fans adore her for her beauty, gentleness, humble lifestyle, and generous personality. Even though her acting career has been limited compared to that of other performers, she has managed to keep her fans engaged through her Instagram profile, earning the moniker of \"Insta queen\" in Pakistan
After her marriage to Pakistani actor Muneeb Butt, her reputation grew to include a more lavish lifestyle. Aiman Khan is a rising star who has already made a name for himself at such a young age. She is considered one of the most followers on instagram in Pakistan
3 – Mahira Khan – 7.7 Million
In a short amount of time, Mahira Khan has gone from VJ to Pakistan\'s top superstar. She has been a brand ambassador for L\'Oreal Paris in Pakistan and around the world, representing Pakistan. She also astonished millions with her immaculate beauty in a long black gown alongside India\'s Sonam Kapoor and Aishwarya Rai at Cannes, where Sonam Kapoor and Aishwarya Rai joined her. Mahira Khan put another feather to her cap in 2019 as she was honored by the Distinctive International Arab Festivals Awards for her services to the cinema industry (DIAFA). She is also nominated for the Hum Style Awards in 2022. Mahira would be returning to the small screen after 6 years With DRAMA 'HUM KAHAN KE SACHAY THAY'.
4 – Minal Khan – 7.4 Million
We\'ve seen many sister duos in the media realm, from Gigi and Bella Hadid to Kendal to Kylie Jenner, Mawra, and Urwa Hocane. Several sister duos have ruled the industry alongside one another. Another well-known sister duo from Pakistan is Aiman and Minal. When it comes to Aiman, Minal doesn\'t need an introduction because she is so closely linked to her that she appears to be the same. Minal is one of the most followers on instagram in pakistan
These lovely twins have been associated with the entertainment business since they were small. They have both grown up in front of the crowd, even though they are still young. On the other hand, Minal Khan is a firm believer in the right to privacy of celebrities. Minal Khan and Ahsan Mohsin Ikram recently married.
5 – Sajal Aly's – 7.1 Million
We\'re speechless when it comes to Sajal Aly\'s acting ability. She is Pakistan\'s very first and only natural-born actress. After her mother\'s untimely death, she was out of touch with the television industry for a long time, but she made a great comeback when she signed a movie called \"MOM\" in India with the late \"Sridevi.\" That film held a special place in her heart since it reminded her of her mother.
She\'s a difficult bird to catch or prey on when it comes to her excellent acting ability. However, the command of her acting skills has made her a strong figure in Pakistan. Her personality is incredibly charming, delicate, and restrained. Her husband is actor Ahad Raza Mir.
6 – Sarah Khan – 7 Million
With the film \"Badi Appa,\" this lovely silent beauty made her Hum TV debut in 2012. On the other hand, her brave act in \'Sabaat\' earned her fans\' trust. She is lovely and intelligent, and she is meticulous about her work and avoids interfering in other people\'s lives. Unfortunately, with her breakup with Agha Ali and the accusations flying about her, she\'s been in a dreadful mess lately. It\'s still unclear what went wrong in their relationship to bring it to this point. Sara is one of the most followers on instagram in pakistan
7 – Mawra Hocane – 6.6 Million
The Instagram page of this adorable lady is a combination of family, work, and pleasure. Mawra Hocane has carved a name for herself in the Pakistani and Bollywood television and film industries. She got a large following after the success of her blockbuster drama \"Sabaat.\" She is known in her community for speaking out against injustice and other social issues. Her stunning \'Selfies\' have elevated her to the status of social media queen. Her clothing line for young girls, UxM, was launched lately in collaboration with her sister, actress Urwa Hocane.
In 2019, the newlywed, three-time award winner, and \'Suno Chanda star had an incredible year. When Yasir Hussain kneeled and proposed to her in front of the Lux Style Awards crowd, she won honors and married. Last year, she had a lot of positive things happen in her life.
8 – Iqra Aziz – 6.4 Million
Iqra Aziz is known for her aggressive, sharp, and wicked character in plays. Her acting abilities have been displayed in popular serials such as \'Suno Chanda,\' \'Ranjha Ranjha Kardi,\' and now \'KHUDA AUR MOHABBAT.\' People praised Iqra and Yasir for lavishing their adoration for each other and for sharing the news of their lovely, uncomplicated wedding. Iqra Aziz\'s most followers on instagram in pakistan.
9 – Hina Altaf – 6.1 Million
Since Hina Altaf married Agha Ali, the ex-husband of TV actress Sarah Khan, her admirers have been more interested in her social media profile. They\'ve been in the spotlight for their everyday happy-go-couple goals rather than their affair or marriage.
Hina Altaf is a goofy, bubbly fitness freak who adores discussing adolescents and their issues. She\'s also start a YouTube channel where she plans to document a typical day in the lives of an ordinary person rather than a celebrity.
10 – Hira Mani – 6.1 Million
On Instagram, Hira Mani thanked her fans for helping her reach five million followers. With a beautiful photo, the Mere Paas Tum Ho actor added, \"Thank you for appreciating my Instagram and me.\" Hira also included the number \"5M\" as well as a heart emoticon. Hira Mani is most followers on instagram in pakistan
11 – Sana Javed – 6 Million
Sana Javed, a Pakistani actress, best known for her performances in the hit TV shows Ruswai and Khaani and the upcoming DUNK, has surpassed a new milestone on Instagram, where her profile reveals that she now has over 6 million followers.
12 – Ali Zafer – 4.8 Million
Oh, and you\'ll see him in a lot of shirtless photos. He\'s the only male celebrity on the list who can\'t seem to stop posing and snapping selfies. Oh, and you\'ll see him in a lot of shirtless photos. Ali Zafer is most followers on instagram in pakistan
13 – Atif Aslam – 5.9 Million
With 5.9 million Instagram followers, Atif Aslam, a prominent Pakistani singer, songwriter, and Bollywood hitmaker, is the sole man on the list. The musician, who is known for his hit songs, frequently uploads photographs from his daily life and highlights from his music concerts and events. Most Famous singer of Pakistan. Aslam began his career after joining the band Jal and collaborating with contemporary musician Goher Mumtaz on \"Aadat\" in 2003. Apart from photos of his beautiful wife and children, his account functions as a portable travel journal, with pictures of performances, random photography, and clever commentary enthralling his admirers.
14 – May Ali – 5.7 Million
Maya Ali, a Pakistani actress, is thrill that she now has over five million Instagram followers.
The model expressed her gratitude for the love and support she receives from her fans in a statement on the social media site. In addition to the sweet comment, the Teefa in Trouble actress shared a lovely snapshot of herself, complete with a lovely grin.
Maya Ali has made a spectacular return to television following a long absence. Despite this, she continues to amaze on the big screen with flicks like Teefa in Trouble (2018) and Parey Hut Love (2019). She co-stars alongside Shehryar Munawar in the ARY Digital drama serial \"Pehli Si Muhabbat\" in her return to drama. She is the most followers on instagram in pakistan
15 – Neelam Munir – 5.1 Million
Neelam started her acting career when she was very young. For a long time, Pakistani actress Neelam Muneer has dazzled us with her fashionable looks. She\'s given us a wide range of looks, but it\'s her Eastern-wear line that\'s garnering the most buzz. The Qayamat actress has been posting stunning photos of herself on her Instagram account daily. Neelam Muneer is also a role model for some well-known Pakistani businesses. She also routinely updates her Instagram account.
16 – Kinza Hashi – 5 Million
Kinza Hashmi, a well-known television actress, is creating waves on social media. On her Instagram account, the gifted actress uploaded some lovely photographs. Uraan\'s fans and admirers can\'t get enough of her stunning Instagram images. Kinza is one of the most followers on instagram in pakistan.
She has over 5 million Instagram followers, and her stunning photographs have captivated millions of people. Kinza Hashmi rose to prominence before her appearance in Ishq Tamasha, and she has since appeared in over 20 series. She began her career at the age of 16, which is considered a young age in her area.
17 – Urwa Hocane's – 4.6 Million
Urwa Hocane\'s proud sister has made a name for herself in Pakistani entertainment. Urwa Hocane began her career as a VJ on the ARY digital channel \"The Music.\" She has a modeling and acting background, but she has recently broadened her horizons to include directing and producing. Her husband, Farhan Saeed, earned millions of hearts in the drama Suno Chanda. She is dedicated, dynamic, and ready to release her production film \'Titch Button\' with the support of her spouse.
18 – Ayesha Omer – 4.5 Million
Ayesha Omer, a well-known Pakistani actress, has 4.5 million Instagram followers due to her vibrant personality and talent. The gorgeous actress, who has turned into one of Pakistan\'s few superstars with such a large fan base, has sent a poignant message to honor the occasion.
The gorgeous actress, who has turned into one of Pakistan\'s few superstars with such a large fan base, has sent a poignant message to honor the occasion. Ayesha omer is one of the most followers on instagram in pakistan.
18 – Saba Qamar – 4.5 Million
After reaching 4.5 million Instagram followers, Saba Qamar thanked her fans for their support.
The actress is a prolific user of social media, where she shares her breathtaking photos and videos and keeps her followers up to date on upcoming events. Saba consider as one of the most followers on instagram in pakistan.
After she called off her wedding arrangements with Azeem, a well-known blogger, and entrepreneur, the actress gained attention. Saba had planned to marry blogger and entrepreneur Azeem Khan but had to postpone marriage due to personal issues. Azeem Khan was accused of sexual harassment by a woman just days after announcing his engagement to Saba.
19 – Yumma Zaidi – 4.3 Million
On Instagram, the talented young actress has hit the 4.3 million follower mark. Yumna Zaidi has been a part of the drama industry since 2012, appearing in several TV shows. However, despite her long career in show business, there is still a lot we don\'t know about the actress.
Yumna, like most of the other actors, had doubts about her ability to perform or even pursue acting as a career. However, Yumna Zaidi, a Pakistani actress, shocked her fans with her wonderful voice in a social media video.
20 – Hania Amir – 4.3 Million
Hania has 4.3 million Instagram followers. She expressed gratitude to her fans and stated that she adores everyone, including trolls. "Thank you for being the coolest fans ever," the author expresses his thanks. Hania is consider as most followers on instagram in pakistan.
As a result of her inadequate filters in her Instagram photographs and videos, Hania Amir has received a lot of attention and criticism. While using an Instagram filter can improve the appearance of your photos, be aware that they can also get you in trouble.