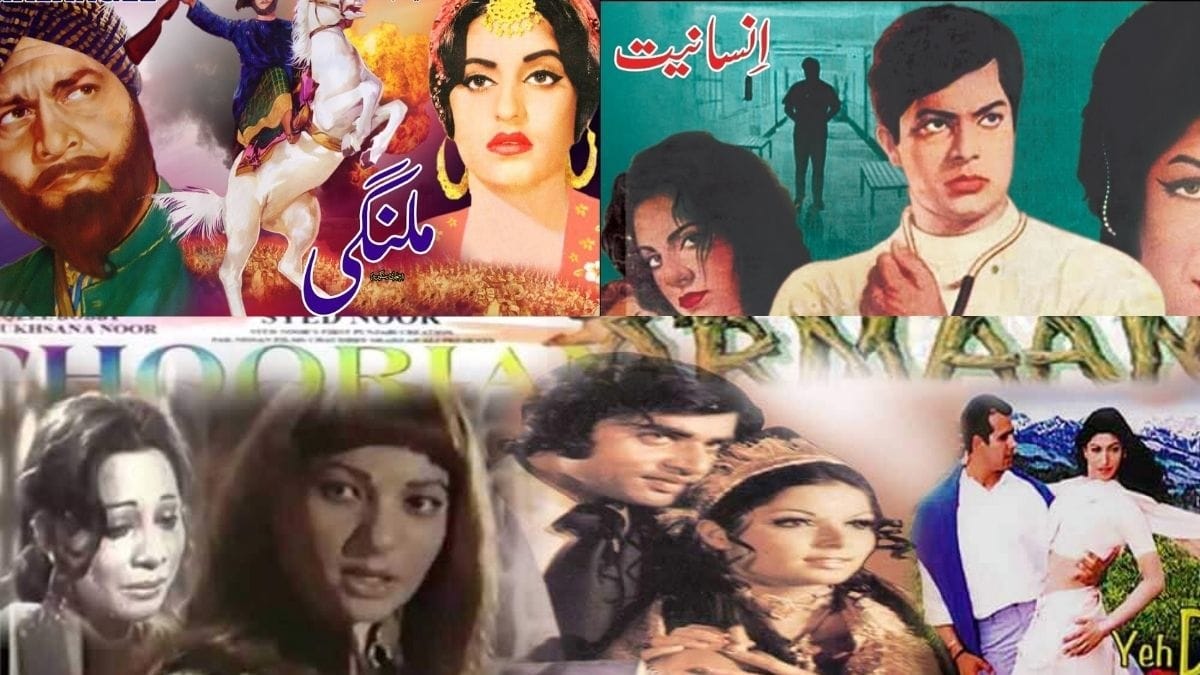 Our cinema has also given birth to several extraordinary artists. Such as Waheed Murad, Mohammad Ali, and Zeba, who have all achieved great success. Pakistani cinema has seen its ups and downs. Pakistani Classic Movies with universal themes. Generally with sad protagonists and large musical numbers, were popular during the Golden Era of the late 1950s and early 1970s. However, the industry fell out of favor in the 1980s and 1990s, and it wasn\'t until the 2000s. That the country regain its footing in the filmmaking world. These are the must-see classics and contemporary favorites to watch. If you want to acquire a true sense of Pakistan through film.
There were several films that you couldn\'t see before the resurgence of Pakistani cinema. So, here is a list of films that have dubbed the \"Best of Pakistani Cinema.\" Starting with the most recent and progressing to the oldest.
[wptb id="7607" not found ]
Also Read: 7 Pakistani Movies You Need To Watch At Least Once In Your Lifetime 
Pakistani Boys Reveal Why They Hate Pakistani Dramas
1 – Yeh Dil Aapka Hua (2002)
The film, which grossed Rs. 30 million in Pakistan, tells the narrative of a young Pakistani living overseas who has an inexplicable yearning for eastern culture and a particular eastern female. In 2002, the film received eight Nigar Awards.Teh dil ap ka hua one of the best Pakistani Classic Movies
2 – Choorian (1998)
Choorian is a Punjabi-language action-romance film direct by Syed Noor and produced by Haji Faqir Mohammad released in Pakistan in 1998. Moammar Rana and Saima feature in the film. Choorian is the second highest-grossing film in Pakistan\'s history. A basic love story is told in the film. A metropolitan boy is sent back to the village to live with his uncle. He quickly falls in love with Billo, his uncle\'s older daughter. Billo is a maid in her own home who helps Bahar, her stepmother, with her responsibilities. Throughout the film, Bahar treats her like a slave while her two daughters live like queens. It appears to be a local Cinderella!
3 – Bandish (1980)
Bandish, released on November 1, 1980, screened in Pakistan for 81 weeks (Platinum Jubilee screening). The film was also a smash in Indonesia, winning six Nigar awards. The plot concentrates upon cross-border love and the consequences that it has. It is one of the pakistani classic movies.
Also Read: \'Zaalima Coca Cola\'
4 – Maula Jatt (1979)
Maula Jatt\'s success and significance are comparable to The Godfather. Which started a trend for gruesome Punjabi films and spawned multiple unofficial sequels. The plot revolves around a Punjabi community, exposing its flaws, quirks, and glorious characteristics. At the same time, the central character, Maula, who becomes embroiled in a feud with a prominent criminal. It has fascinate audiences for decades.
5 – Mera Naam Hai Mohabbat (1975)
Mera Naam Hai Mohabbat, a Nigar Award winner, is the film to see if you want to see a love tale that overcomes all obstacles and grows stronger than ever.
6 – Umrao Jaan Ada (1972)
Umrao Jaan Ada is an emotional heartbreaker. It recounts the lives of a young girl who is driven into the brutal world of prostitution because she has the soul of a poet. Rani plays Umrao Jaan, the heroine in the film directed by her husband Hassan Tariq. The film explores the terrible reality of sexual exploitation, which is made all the more heartbreaking by Umrao Jaan\'s frail soul and her passionate quest for true love. Pakistani classic movies are based on an Urdu novel by Mirza Hadi Ruswa, the super successful film is a revenge narrative with romance, drama, and unwanted love. It\'s a one-of-a-kind film that\'s praise for its perfect music and lyricism for years.
7 – Anjuman (1970)
Anjuman is a Pakistani Urdu colore film starring Waheed Murad, Rani, Deeba, Santosh Kumar, Sabiha Khanam, and Lehri. It was later remade in 2013. The film was release during Waheed Murad\'s \"heydays\" and became a watershe moment in his career. Film was directe by Hassan Tariq, a well-known Pakistani film director, and produced by Safdar Masud under Ideal Movies. However, the film is about love that has lost, sacrificed, and sorrowful. It also received eight Nigar awards.
Also Read: Here Are The List Of Top 10 Pakistani Dramas 2021
8 – Doraha (1967)
A romantic and lyrical Urdu black and white film fail to captivate an audience when it was first release but acquire traction in the 1980s and 1990s. In Dhaka and East Pakistan, now Bangladesh, the film was also a major hit.
9 – Insaniyat (1967)
The film, directed by Shahab Kiranvi and starring Waheed Murad, Zeba, Tariq Aziz, Firdous, and Nanna, ran for 12 weeks in Karachi\'s Reevali Cinema and 30 weeks in other theatres. As a result, the picture received Silver Jubilee status in Karachi and Golden Jubilee status in other Pakistani cinemas. The story follows a doctor whose love is marriage to a cancer patient and how the physicians can save his lover\'s husband\'s life. Insaniyat is one of the pakistani classic movies.
10 – Mirza Jatt (1967)
Mirza Jatt is a Pakistani Punjabi film based on the mythology of Mirza Sahiban, which was release on November 23, 1967. Firdous and Ejaz star in this film. You should check out \'Mirza Jatt,\' known for its award-winning writing and catchy melodies.
11 – Aaina (1966)
Abdul Hameed produced, and Shabab Keranvi directed the pakistani classic movies Aaina, which has spawned a slew of remakes in the years after that. Deeba, Mohammad Ali, Zeenat, and Kamal Irani were among the prominent characters in this film. In addition, the film was well-known for its music and poetry.
12 – Armaan (1966)
Armaan, a black-and-white Pakistani film directe by Pervaiz Malik and produce by Waheed Murad, was the first Pakistani film to complete 75 weeks in theatres, making it the first Pakistani \"Platinum Jubilee\" picture. Armaan received multiple honors at the Nigar Award ceremony in 1966, including Best Film, in addition to its financial success. The movie was shot in Karachi. In 2013, Fawad Khan and Aamina Shiekh starred in a remake of Armaan.
13 – Malangi (1965)
Malangi, a very hit film, set a record by being the first film to receive a Double Golden Jubilee at the same theatre in Lahore. The pakistani classic movies is a must-see
14 – Ghoonghat (1962)
Ghunghat is a Pakistani musical film directe by Khurshid Anwar and released in 1962. The film was chosen as Pakistan\'s entry for the 36th Academy Awards in Best Foreign Language Film. In addition, the film was nominate for four Nigar Awards in 1962.
15 – Neend (1959)
Need is a Pakistani-Urdu film that won the Nigar Award for Best Film. The film has a unique concept and an award-winning script. The film was also well-known for its songs and stellar performances by the cast.
16 – Anarkali (1957)
Anarkali is a well-known Pakistani classic movies about an enslave girl name Anarkali who falls in love with Prince Salim, who ascends to the throne of the Mughal Empire under the regal appellation Jahangir. Theirs is a love story that has told many times and in many different ways. Noor Jehan, Sudhir, Zarif, Ragni, Shamim Ara, Hamalia Wala, and Fazal Haq appeared in Anarkali, a film based on a drama written by Imtiaz Ali Taj in 1922. Many times before and after the Pakistani version, this film was remade. It was one of the most popular movies at the time.