PSL 8 All Team Kits 2023: When it comes to the Pakistan Super League, Pakistani cricket fans go crazy for their favourite teams, but this time, things are different since it's going over the line. If some of them enjoy watching, the tough PSL matches with their pals despite not being cricket aficionados. Fans anticipate the team jerseys during the entire season, and in PSL 8, all uniforms have been made public.
PSL 8 Ticket Prices Reduced – Good News for Karachi Students
Yes! Official PSL 8 all-team jerseys have been made public on social media, and each team has created a distinctive look representing a different Pakistani city.
PSL 8 All Team Kits 2023:
Before PSL season 8 even began, Babar Azam's departure from Karachi Kings and subsequent joining of the rival Peshawar Zalmi squad caught everyone's attention. Everyone at that point recognised how explosive this season would be.
The kit for this year is gorgeous and appealing, with various styles. When they wear it, they hope to radiate strength and spirit. Each kit embodies its spirit and disposition.
Multan Sultan Kit 2023: ( MS T-Shirt )
The Multan Sultan Kit for 2023 is essentially unchanged from prior seasons. This time, they used the same colour gradient approach and artwork from Multan's renowned Masjid.
The team previously had sponsors; at the moment, new ones have been added, including Shell V-Power, the Fatima group, Asia Ghee, Pepsi, and Nishan-e-Haider builders and developers, who will support the squad in 2023.
Islamabad United Kit 2023: (IU T-Shirt )
The uniform of two-time PSL champions Islamabad United appears to have undergone slight modifications since the last match.
The colour scheme is striking and straightforward, with few additional components. For its second season, Islamabad United has secured JS Bank as the title sponsor and Q Mobile as its primary partner.
PTCL, Yayvo and Igloo, Gwadar Golf City, Bisconni, Dastak, Sabroso, Ufone, Fast Cables, Jomo.pk, Snack Video, and DCODE are some of the additional partners.
Lahore Qalandars Kit 2023: (LQ T-Shirt )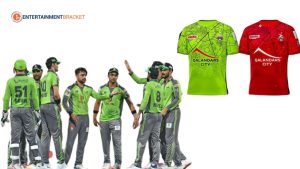 Shaheen Afridi intervened this time and created the T-Shirt. Additionally, this edition includes the debut of the new logo for LQ Merchandise.
Although Lahore Qalandar's logo and uniform design received a tonne of flak from the supporters.
Melbat is one of the new sponsors and will be appeared at the back of Lahore Qalandars shirt for PSL Season 8.
Karachi Kings Kit 2023: ( KK T-Shirt )
It's nothing new regarding everyone's favourite kit, Karachi Kings. Identical logo and colour scheme. Who creates the child? AJ Sports produced the outfit.
The principal sponsors are ARY Laguna, Nurpur, Scene on, Surf Excel, Cadbury dairy Milk, Brighto Paints, Imtiaz Super Market, Bona Papa, Mughal Steel, Inverex, and Rooh Afza.
Peshawar Zalmi Kit 2023: ( PZ T-Shirt )
The Peshawar Zalmi's kit, unveiled this year and unquestionably everyone's favourite, is the real deal we're talking about. Everyone's breath is taken away by their practice kit as well.
In contrast to places where you only receive one colour scheme, here you get two fantastic colour schemes that both seem extravagant.
Babar Azam has also changed his focus to PZ, and Shahid Afridi has rejoined the team.
Quetta Gladiators Kit 2023: (QG T-Shirt )
The fundamental colours of the Quetta Gladiators' uniform are purple and gold. The kit certainly stands out thanks to its purple and golden colour scheme.
The information in all of these kits excited and captivated everyone. Not every outfit met the standard, but they all succeeded in pleasing their supporters. As PSL also released the musician line-up, fans are excited about the new anthem.