John Cena, a former WWE superstar, was photographed in Melbourne, Australia, wearing an odd outfit. The well-known professional wrestler who transitioned to Hollywood was spotted walking around in a revealing black and white plaid skirt, thigh-high stockings, and stiletto high heels.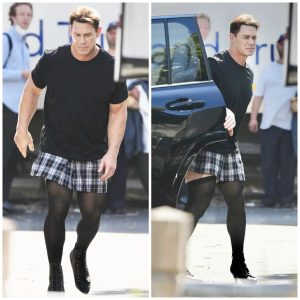 With his comical feminine attire, the "Doctor of Thuganomics" made headlines worldwide and raised a few eyebrows as images of John Cena spread like wildfire.
WWE Star John Cena
John Cena, a former World Wrestling Entertainment (WWE) champion, is now filming Ricky Stanicky, a comedy, in Melbourne, Australia. The muscle-bound actor hero is dressed traditionally femininely since the 45-year-old wrestler/actor is well-known for his comic abilities in cinema.
5 Best Batsmen of Indian Cricket Team
Here are some never-before-seen, exclusive photos of John Cena, a famous Hollywood actor.
In the Peter Farrelly-directed film Ricky Stanicky, three friends set a house on fire as part of a practical joke. The teenagers fabricate the persona of "Stanicky," whom they hold responsible for their irresponsible behaviour. The three friends are eventually compelled to employ an actor to play Stanicky.

John Cena has a great run right now. The former action star is slated to star in another comedy action movie called Killer Vacation with Jason Momoa following the success of The Peacemaker.