There has been a persistent rumour on social media for some time now that Mohib Mirza and Pakistani actress Sanam Saeed are married. Yet neither actor has either confirmed or rejected this rumour. Those closely following the couple's appearances at public events and social gatherings have developed divergent perspectives, which has fed rumours about their putative marriage.  Sanam Saeed and Mohib Mirza Announce Marriage
With her role as Kashf in the Hum TV drama series "Zindagi Gulzar Hai," Sanam Saeed became incredibly well-known and earned people's hearts throughout Asia, notably in Pakistan. Sheheryar Munawar Siddiqui and Fawad Khan were her co-stars in the drama. She gave a standout performance in the drama, perfectly embodying her part with her acting, attire, and cosmetics. Sanam immerses herself in each character she plays in a Pakistani drama as if it were a part of her life narrative.
Sanam Saeed and Mohib Mirza Announce Marriage
Moving on to Mohib Mirza, who made his television debut in PTV's drama serial "Zebunnisa," is also a seasoned veteran of Pakistan's entertainment sector. He has performed in leading roles in several Pakistani films and his work in TV dramas. The 2016 movie "Bachaana," which starred Mohib and Sanam Saeed, was well-liked by both Indian and Pakistan viewers.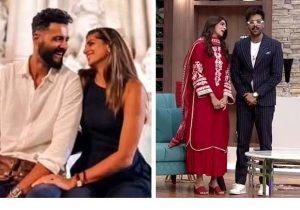 In today's article, we are happy to announce that actor Fahad Mustafa on his programme "The Fourth Umpire," officially announced Sanam Saeed and Mohib Mirza's marriage. Fahad Mustafa asked both actors for their consent before making the announcement. Fahad approached Sanam during the performance and said it would be lovely if everyone wished her luck. Sanam said in the affirmative, and Fahad then urged everyone to stand and congratulate the newlyweds on their union. Fahad added, "It's not about everyone else, it's about you people, and that's how it should be," to his congratulations. He also asked for their marriage to endure forever with Allah's blessings.
You can now satisfy your curiosity about whether Sanam Saeed and Mohib Mirza are married by watching the video link below of their wedding announcement on Fahad Mustafa's show.
We want to take this time to wish Pakistani actress Sanam Saeed and her spouse Mohib Mirza all the best in their marriage. We wish them love, joy, and a lifetime of being together.