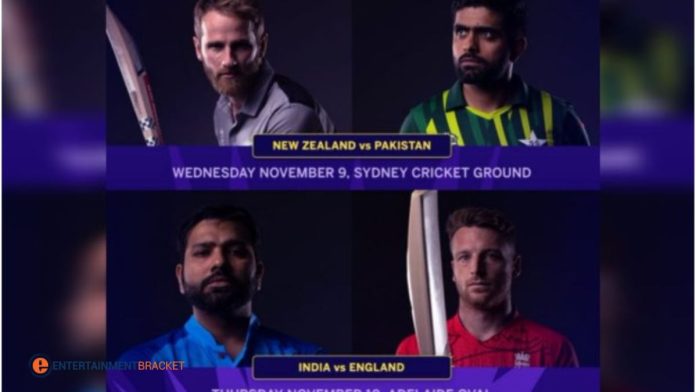 After India defeated Zimbabwe by 71 runs in their final T20 World Cup 2022 Super 12 match at the Melbourne Cricket Ground (MCG) on Sunday, Pakistan will play New Zealand in the tournament\'s T20 World Cup semi finals on November 9.
On Thursday, November 10, at the Adelaide Oval, India and England will square off in the major event\'s second semifinal.
T20 World Cup semi finals
After the Netherlands unexpectedly defeated South Africa earlier on Sunday, the green shirts needed to defeat Bangladesh to advance to the semifinals, which Pakistan miraculously did.
At the Adelaide Oval, the Green team defeated Bangladesh by a margin of five wickets, securing their place in the competition\'s final four.
The T20 World Cup\'s most exciting day was Sunday when the group matches end. And the top point scorers from Groups 1 and 2 advanced to the tournament\'s Semi-Finals.
Rumors of Sania Mirza and Shoaib Malik Divorce Intensify 
Pakistan advanced to the T20 World Cup semifinal by outlasting Bangladesh by five wickets.
South Africa finished with five points, while Pakistan had six. Still, the Netherlands\' stunning upset of Temba Bavuma\'s squad on the final day of Group 2 play. End South Africa\'s hopes of reaching the semifinals.
Pakistan and Bangladesh were tied on four points apiece and need. The Dutch victory to give their hopes of making the semifinals more momentum. They now face off in a virtual quarterfinal.
India was guaranteed a place in the Group 2 semifinals. After the Netherlands surprise everyone in Adelaide with a 13-run victory.