Tere Bin Black Magic Scene: Tere Bin is a brand-new, critically acclaimed drama series on Geo Television. It was create by Nooran Makhdoom and Siraj Ul Haque and is the 7th Sky Entertainment production. Because of the romance-filled plot, audiences adore the drama. Yumna Zaidi and Wahaj Ali have a very popular song portraying Meerab and Murtasim in the drama serial.
Tere Bin's Yumna Zaidi gets candid about shooting the viral pool scene
Tere Bin Black Magic Scene
Geo TV broadcast Episode 22 of the drama yesterday. The drama had a very daring sequence in which Haya (Sabeena Farooq) used black magic to curse Meerab, whom she despises since, in Haya's opinion, Meerab stole her beloved Murtasim. She was seate on the rooftop in the middle of the night, using candles to ignite a spell and Meerab's photo to burn. Consider watching the video:
Viewers are upset over the black magic scene because they feel that although the drama progresses nicely, witnessing Haya use black magic sets a terrible example and teaches people bad habits that can ruin lives. "Please don't push people towards these supernatural things, get folks out of this crap," one Facebook user pleaded. It's simply repulsive. Don't ruin the love drama with such low-class things, please.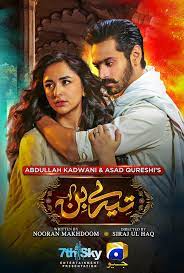 Fans of Tere Bin claim that the story was moving smoothly when these dark magic sequences were suddenly introduce, ruining the entire plot. "In Pakistan, people already follow and learn from the media, and if such abhorrent activities are aire on television, people would copy them in real life as well, destroying their world and the hereafter," commented a Facebook user. Several people claim that the drama Tere Bin has now fully evolved into an Indian serial. You may find all the Facebook comments from Geo Television's page here. Check out the comments: