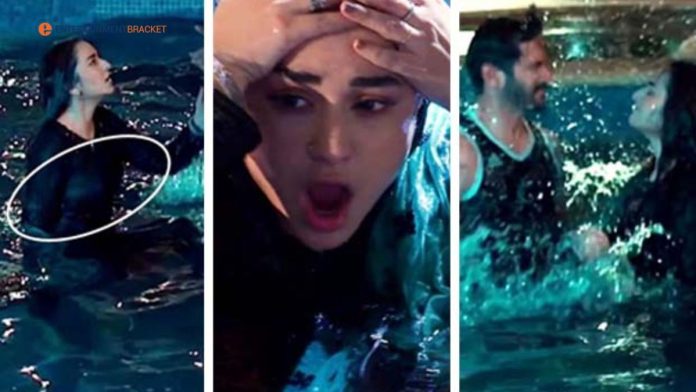 Tere Bin Yumna Zaidi gets candid about shooting the viral pool scene  Geo TV now airs the immensely popular Pakistani television program Tere Bin. Not just in Pakistan but also in other nations, including India, Bangladesh, Nepal, several Middle Eastern nations, and Saudi Arabia, it has experienced tremendous growth in popularity. Many modifications and snippets of Tere Bin are shared by Tere Bin fan pages from throughout the world. In one episode's recently viral footage, Yumna Zaidi is shown falling into a pool when Wahaj Ali releases her hand. Due to the show today, the future episode of Tere Bin is expected to include this sequence.
Tere Bin Yumna Zaidi gets candid about shooting the viral pool scene
Actress Yumna Zaidi spoke about the swimming pool scene from the Tere Bin drama, which has received much attention. She said that while the scenario was inherently dangerous, the crew took all essential safety measures and carefully set it up. Despite this, she first felt hesitant about acting in the scene, and both the director and Wahaj were aware of her worries. They questioned her repeatedly about her comfort level until Yumna finally decided to perform the part.
Mia Khalifa Divorce After Two Years Of Marriage
View this post on Instagram
Yumna claims, "I knew that this kind of scene had never been done in the history of Pakistani plays. I was interested in executing it for the Pakistani audience, who deserve to witness unique and distinctive content. Despite the sequence being filmed in a controlled and safe manner, I must admit that my heart was racing as it was being shot because there was a chance of damage.
Tere Bin Black Magic Scene Gets Severe Public Criticism
View this post on Instagram
Fans on social media have praised Yumna Zaidi's brave choice to portray such a distinctive scene to the audience. Many viewers eagerly anticipate the program's airing to catch a peek at the swimming pool scene, which has piqued their interest and aroused their curiosity. Here are a few thought-provoking remarks made by drama enthusiasts.