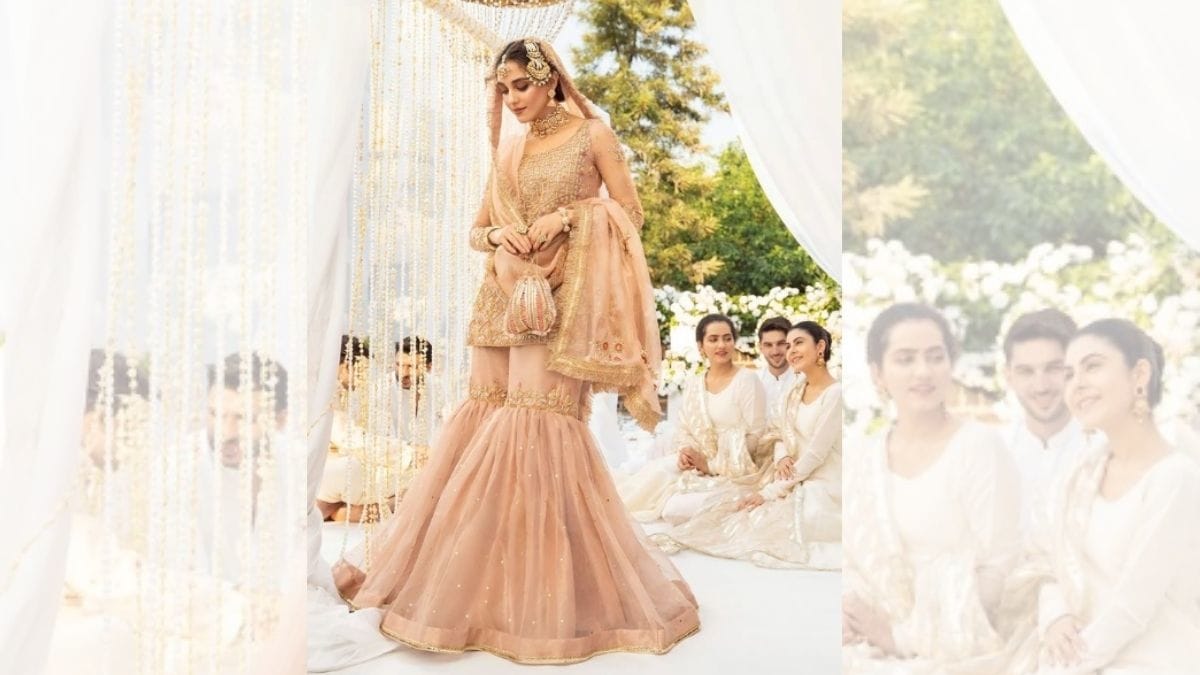 As October comes to an end and the winter season comes, we all know what\'s next: the desi wedding season. Every Pakistani couple dreams about getting married in the beginning to middle of the winter season. After all, why not? The weather is pleasant, shadi halls are more affordable, post-wedding travel possibilities are ideal, and the food is delectable — gajar ka halwa and Kashmiri tea, to be exact. With winter weddings, there\'s only one issue: what to dress. Ladies, don\'t worry; we\'ve got you covered. We\'ve compiled a list of all wedding dress trends 2021 in Pakistan.
Also Read: Ali Xeeshan Receives Criticism On Latest Photoshoot For His Brand 
Colours In Fashion 
While we\'re hoping to see a variety of colour trends this year, we\'re betting on blush pink and lavender, as well as earthy olive greens and even the Pantone colours of the year, Ultimate Grey and Illuminating Yellow.
Also Read: jewelry trend for 2021 in Pakistan 
Color-blocked Outfits
These days, colour blocking is all the rage. This look has become rather popular in terms of ethnic wear. You could be wondering how to colour block. The simplest method to go about it is to make (or find) an outfit that combines two colours from opposite ends of the colour wheel—purple and yellow, for example, or orange and pink. For a lively Mehendi event, colour-blocked clothing looks stunning.
Uniqa Nackles
Blouses have taken an experimental turn in recent years and are growing more exposed. It\'s all about the edgy necklines and eccentric shoulders. Find your favourite style and go all-in with a stunning blouse this season.
Medora Brand Lipsticks, Products, Price and More
Shimmer & Mirror 
We can\'t get enough of the shimmer, sequins, and mirror work. Glitz, glam, and a smidgeon of bling! What more could a bride-to-be want for when it comes to getting ready for her wedding? Mirror work gowns are one of the most enticing and popular options for brides and bridesmaids. They\'re classic, graceful, and opulent all at the same time. And they will undoubtedly rule in 2021.
Elegant & Impactful Head Jewellery
Bridal headgear such as bridal hairbands, Matha Patti, and other similar items are popular among brides. However, unlike traditional head jewellery, the designs have evolved, with jewellers adopting half moon-like forms or even more modern designs that look stunning on modern brides!
Floral Mehendi For Brides
While peacocks and lotus themes, as well as glitter henna, were popular in 2020, we\'re seeing an increase in women getting flowery mehndi designs for their weddings in 2021. Who are we to complain, anyway? Floral mehndi with intricate designs are wonderful!
Chevron Print
The zig-zag print, often known as the Chevron print, is back in all its glory. Many brides and designers are already incorporating this 2014 trend into their bridal gowns. this zig zag print new wedding dress trends 2021 in pakistan
Blouses With Unique Shoulders & Sleeves
Blouses with distinctive shoulders and sleeves will be a big hit in 2021. While this isn\'t a timeless or classic trend, it\'s one that we adore, as do designers throughout the world.