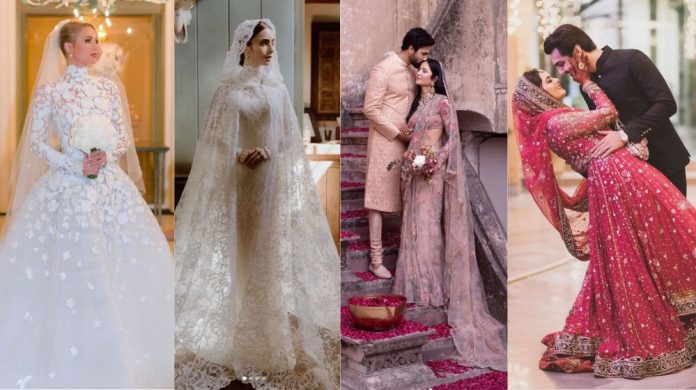 The season for weddings has here! The wedding frenzy has also started as winter draws near and December draws near. You don\'t have to spend all your time searching for the ideal Wedding Looks to get ideas for your big day.
Dia Mirza and Vaibhav Rekhi
In a private ceremony, the B-town diva wed Mumbai-based entrepreneur Vaibhav Rekhi. She wore a vivid red sari with a net gotta dupatta with beautiful gold embroidery for the occasion. Dia wore minimal makeup with a choker and teeka in emerald green. She finished off her look with a lovely jasmine hair setting. Rekhi was pretty spiffy, wearing a traditional white kurta-pajama and a yellow-gold turban.
Top 15 Designer Bridal Dresses in Pakistan 
Katrina Kaif and Vicky Kaushal
Looking back, we can appreciate Katrina Kaif\'s stunning wedding dress. Each of the actor\'s wedding looks, including her mehndi, sangeet, and two wedding gowns was created by Sabyasachi and spoke volumes about her elegant, varied sense of style. The detailed detail in each piece unites the many ensembles, none more so than Kaif\'s floral embroidered sari, which made her appear every bit the princess she is.
The dashing groom, who was likewise dressed to the nines, appeared nothing less than a prince on his special day. Kaushal wore a bespoke silk sherwani over his white, ivory-colored Sabyasachi kurta that was manufactured just for him. He wore a kurta with handmade Bengal Tiger buttons and a silk churidar with khussas.
Rajkummar Rao and Patralekhaa Paul 
The happily ever after of this A-list celebrity contained all the elements of a Bollywood movie. Patralekhaa Paul wore a red tulle embroidered sari with an embroidered crimson veil by Sabyasachi for her big day, adding traditional and lovely elements to make it uniquely hers. She opted for a vivid red lehenga as her wedding attire to follow tradition.
In a jacket made of embroidered raw silk in ivory with gold-plated Bengal tiger buttons, Rajkummar Rao matched his bride. The bridegroom wore it with a churidar and kurta made of Bangalore silk. He complemented his look with a pink drape, a crimson embroidered turban, and handcrafted Sabyasachi heritage jewelry.
Minal Khan and Ahsan Mohsin Ikram
A lavish wedding was held for Ahsan Mohsin Ikram and Minal Khan. Since getting married, the couple has become one of the most popular celebrity couples in the business. We could see a glimpse of Minal\'s stunning bridal trousseau, which Annus Abrar created. She accessorized her look with traditional Kundan jewelry made by Ali Javeri. The garment has several silver embellishments, with hints of cutwork, giving it a more contemporary feel. Dark eyelids and a crimson pout finished off her bridal appearance.
Malala Yousafzai and Asser Malik
Who says that brides have to dress extravagantly on their special day? With a matching dupatta and a plain shalwar, Malala Yousafzai closed the deal in the most understated and unassuming way. She was dressed in a tea-pink kameez with gold and mirror embroidery. She accessorized her appearance by donning a little teeka while wearing her hair down.
Asser wore a tie that matched the bride\'s dress and a three-piece suit with a coordinating pocket square.
Paris Hilton and Carter Reum
Paris Hilton walked down the aisle in an Oscar de la Renta creation, just like Cinderella. The 40-year-old businesswoman wowed in a high-neck, long-sleeved gown with exquisite embroidery as she wed Carter Reum. Hilton\'s dress had pressed flower threadwork embroidery on the bodice and sleeves, gradually fading over the tulle ball skirt. Similar floral details were present at the base of her veil, also created by Fernando Garcia and Laura Kim for Oscar de la Renta. On o the best Wedding Looks. She topped her sleek hairstyle with a sparkly crown to complete the princess-style ballgown. She paired the all-white outfit with lace rather than glass heels for the reception.