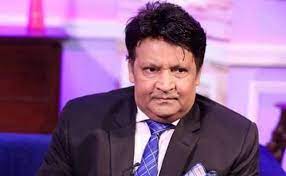 LAHORE – Renowned Pakistani comedian and actor Umer Sharif who had been admitted to a hospital in Germany's Nuremberg passed away after his health condition deteriorated.
Sharif had boarded an air ambulance for treatment at a hospital in the US on Sept 28. However, his condition deteriorated on the way, and was admitt to a hospital during a stopover in Germany.
The veteran actor\'s medical condition became a subject of national concern after he made a video. Appeal to Prime Minister Imran Khan to help him secure a visa to travel abroad for medical treatment.
The federal government had assure him that it would help. And the Sindh government also stepped in, sanctioning Rs40 million for his treatment.
Also Read: Renowned TV host and Poet Tariq Aziz passes away at 84 
Lata Mangeshkar dies after month-long battle with Covid-19
WATCH| Video Of Sidhu Moose Wala Killers Celebrating His Murder Goes Viral