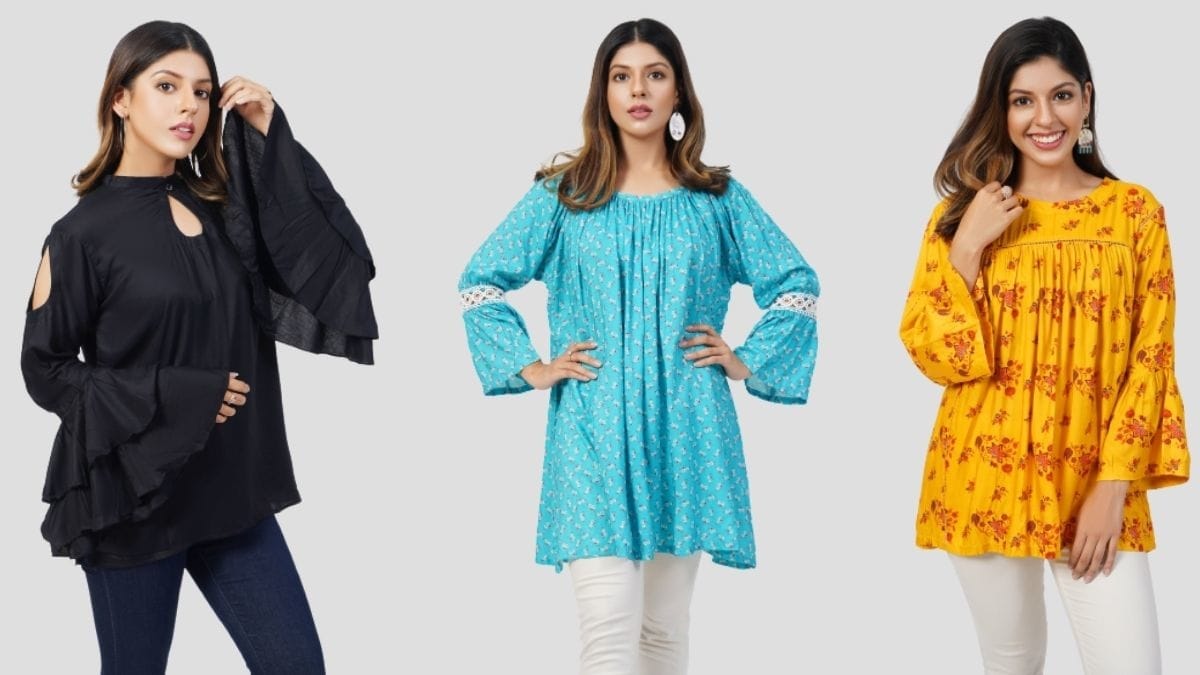 Raise your style quotient by knowing about the best types of tops hitting the fashion industry this season. It\'s high time you pick your favourite and shop for the same.Upgrade your wardrobe and style with these popular tops to find out what looks best on you. Don\'t be afraid to experiment with bright colors, rather than just one or two – that\'s the secret to fashion. Version XI Pink new Premium Ladies Fashion Brand. VXI Pink is a women\'s fashion brand that sells online. It belongs to Version XI and has a business plan to bridge the gap between fashion creation and the consumer, bringing them closer than ever to the things they want at a reasonable price.
Here are List of Version XI Pink New Collection 2021
Graphic White Top
When in doubt, go with white – we guarantee you won\'t be disappointed, and if you know how to slay a Graphic white top. There\'s nothing wrong with that. It goes the best with formal tops and looks sophisticated for office wear as well. When looking for an everyday new office look, white tops are definitely a BIG yes. It appears to be suitable for a day outing, a luncheon, and other informal occasions. Loose-fitting tops are undoubtedly in style; don\'t miss out on them because they\'re worth competing with your other stylish clothes. For a unique style, pair them with bell-bottom or boot-cut jeans.
VXI Pink Launched New Winter Collection
Floral Top
Version XI Pink modern range of women\'s floral tops will add a touch of the beauty to your wardrobe. Choose from a variety of elegant floral shirts with design pops. Full sleeves and frilled detailing provide a romantic touch to any outfit, while crisp, clean cotton adds refinement.
Ruffle Sleeve Top
There\'s no denying that we can\'t get enough of ruffles; they\'re so elegant and stylish. To enhance your wardrobe with a ruffle Sleeve shirt and carry off a wonderful offbeat look. Ruffle tops aren\'t normally available in basic styles; you\'ll be surprised at how many there are. Ruffle sleeves or off-shoulder tops, ruffle on the front or only the back, and more are all available in various styles. Play with color and try out some brighter hues for a fantastic summer appearance. This black ruffle shirt is one of our favorites because it\'s trendy and stylish. This is a must-have item for your closet.
Sleeve Lace Top
If you haven\'t seen this one yet, you need to up your style quotient because it\'s a huge trend this season. It\'s a girl\'s favorite for the majority of us, especially among fashion bloggers. The basic simple sleeve Lace top and the no pattern lace top are the most popular trends. The one with floral sleeve Lace has to be the other. We bet you must have seen many famous fashion icons wearing the same Top.
 Punch Top
These are ideal for everyday wear; it\'s all about adding a touch of eccentricity to your ensemble with the help of the Punch top. Punch tops make a top look more elegant and stylish, rather than keeping up with the latest fashion trend. If you\'re fashionable, you must try a Punch top, which is available in various styles and patterns. It\'s all about the color with Punch. It\'s undoubtedly one of the most popular top styles this season. Version XI pink selling Jungle Punch Top in different colour and style.
Also Read: 23 Top Clothing Brands in Pakistan 2021 
Sequence Short Top
Sequence Short is the new casual top. You can easily wear and carry the Sequence shirts with jeans. These Square shirts look more amazing than other styles as it gives you that chic outlook. Use of lite colors make these shirts even more worth loving. In this amazing and printed top, you\'ll look stylish. The outfit has a round neck and full sleeves and is inspired by nature. The light and fluffy costume is made of cotton fabric, which keeps you cool and comfortable.