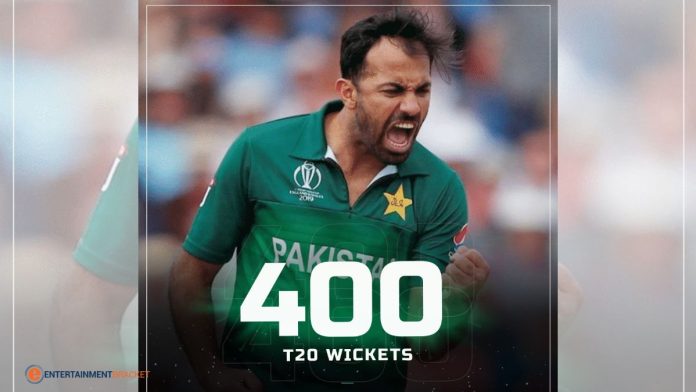 Wahab riaz First Pakistani Player To Take 400 Wickets In T20 Cricket
The left arm did this while playing for Khulna Tigers in the Bangladesh Premier League (BPL). Riaz is the second pacer to 400 wickets in T20 cricket total, behind Dwayne Bravo. The other bowlers with more than 400 wickets in T20 cricket are Sunil Narine, Rashid Khan, Imran Tahir, and Shakib Al Hassan.
Friday's match against Chattogram Challengers saw Riaz surpass the 400-wicket plateau with 4-36 in four overs.
The 37-year-old has taken a total of 401 wickets at an average of 22.25 and an economy rate of 7.48 in 335 games in which he has appeared. He's taken five wickets three times, with the best statistics being 5-8.
Why Is There a Twitter War Between Pakistan and Zimbabwe About Mr Bean?
For his international career, Riaz has also participated in 27 Tests, 91 ODIs, and 36 T20Is, taking more than 200 wickets.
The sprinter made his debut on the international stage in 2008, but he hasn't played for the national team since 2020. Riaz now holds the BPL record for most wickets taken, with 11 in five games. After the India 2023 World Cup, Riaz decided to retire from international cricket.
"Everyone has to say goodbye to cricket one day. But my target is to carry on playing until the 2023 World Cup, that is, if I remain fully fit and my passion for the game remains strong as well. Obviously, if I am performing I will carry on," Wahab said.
The bowler stated that he had decided to play international cricket in 2023 because he is doing well and participating in numerous leagues, including the Pakistan Super League (PSL).
In Riaz's opinion, age is irrelevant as long as a person remains active and contributes to their team.
"Fitness levels, diet and all these things have improved a lot in modern-day cricket so times have changed," he said.