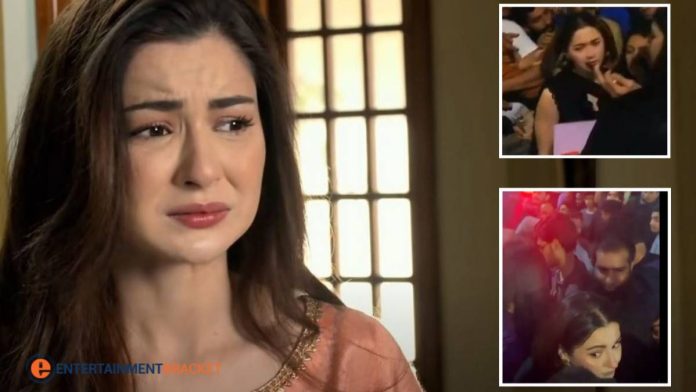 Hania Aamir, a trendsetter and vivacious actor from Pakistan, almost escaped the attack by male fans at the Gujranwala rendezvous.
A sizable mob surrounded the Dil Ruba star outside the meeting place. In one of the viral videos, Lollywood\'s it-girl needed male escorts\' assistance after a crowd of fans noticed her.
Hania Aamir shares vlog on how to make onion water
According to reports, everything went off without a hitch until Hania tried to get into her car after leaving the venue surrounded by supporters.
Bushra Iqbal calls for Ban on all 'home-wreckers' after Rabia Anum-Mohsin Abbas episode 
Charged fans were also seen shoving each other and acting inappropriately with her while others tried to grope her.
Hania managed to flee in her car as admirers frantically tried to take images of her.
The Internet Can't Get Enough of This Girl Unusual Mehndi Dance