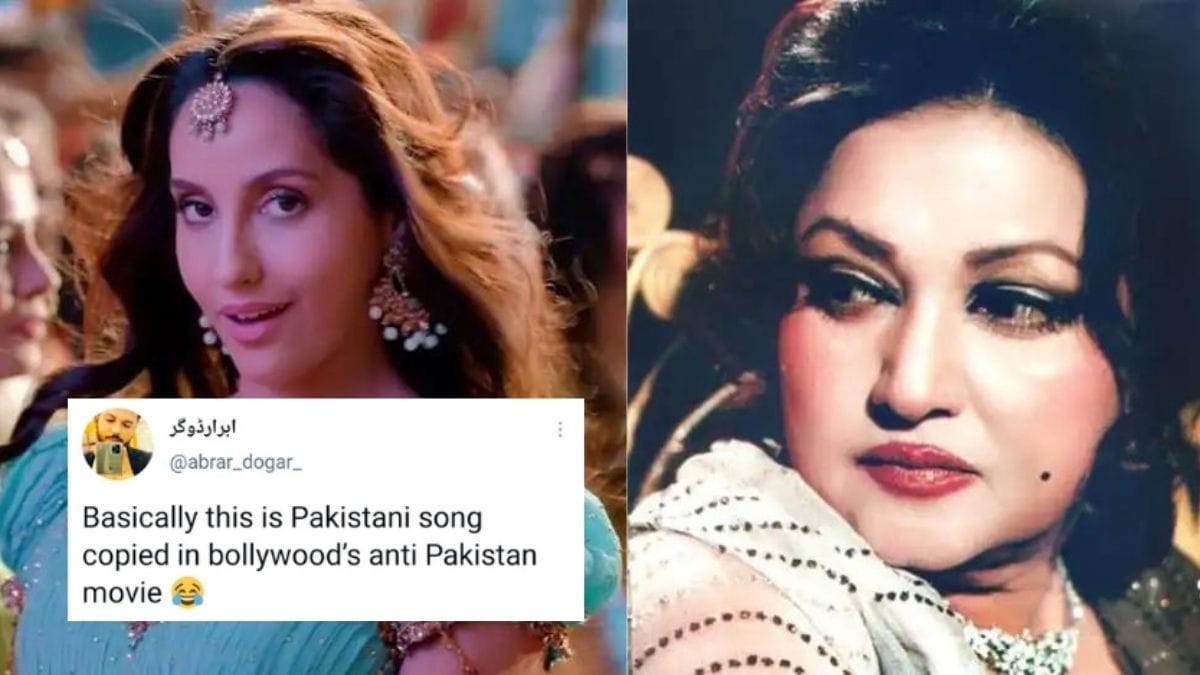 In a bizarre turn of events, Noor Jehan\'s song \"Zaalima Coca Cola\" has remade for a forthcoming Bollywood film that many deem \"anti-Pakistan\" due to the narrative and rhetoric.
Noor Jehan Song
The song is a remake of a song record by Noor Jehan, a great Pakistani singer, for the Punjabi film \"Chan TeSoorma\" in 1986.
Meesha Shafi
It was then remade by Meesha Shafi and Umair Jaswal in 2016. The song\'s latest edition, featuring Nora, is the song\'s third remake. Shreya Ghoshal performs the song.
Also Read: Nora Fatehi killer Dance Moves In 'Kusu Kusu' Set Internet On Fire
Movie Bhuj
The Pride of India is partially based on events that transpired during India\'s war with Pakistan in 1971. During the battle, the trailer follows a famed Indian Air Force pilot after the Pakistani Air Force strikes an airbase. Ajay Devgn, Sanjay Dutt, and Sonakshi Sinha appear in the film, premiere on Disney+ Hotstar in August.
Pakistan is demonise in the trailer\'s tone and narrative. When the trailer was release, this alone upset Twitter users. But a song from the film called \"Zaalima Coca Cola\" featuring actor Nora Fatehi enraged users even more.
If the song doesn\'t seem familiar, it\'s a remake of Noor Jehan\'s classic \"Zaalima Coca-Cola,\" made popular again by a Coca-Cola commercial sung by Meesha Shafi. In the YouTube description of the Bollywood version, Noor Jehan\'s song is credite as the original song, and it is licence to T-Series and EMI Pakistan, according to the licencing information under the video.
Regardless of whether credit was provide or not, Twitter users were not impresse. One commenter stated, \"Basically, this is [a] Pakistani song plagiarised in Bollywood\'s anti-Pakistan movie.\"
Another person say the song was \"conveniently grabbed from the Pakistani music business in the 1980s in a full-on Pakistan bashing movie.\"
Farhan Saeed, a musician, blaste Bollywood composer Salim Merchant in 2019 for plagiarising his song \"Roiyaan.\" Hassan Jahangir\'s 1987 hit \"Hawa Hawa\" was recreate in the 2017 film Mubarakan\'s song \"Hawa Hawa.\"
On the internet, it appears that the filmmakers did not have permission to replicate the song. People are even more enrage by the fact that a Pakistani song is feature in an anti-Pakistan film. We have to confess, the song selection for this film is a bit odd. How do you feel about the song?