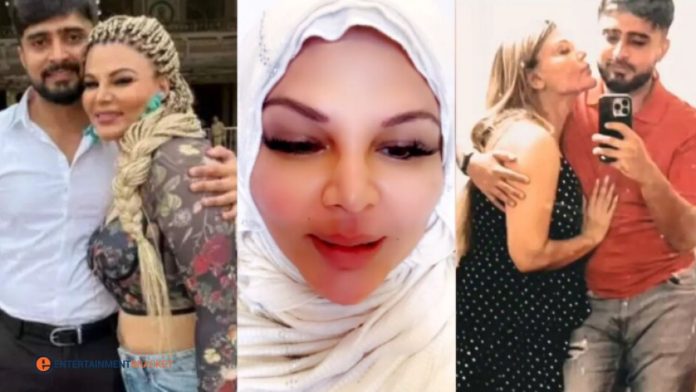 Rakhi Sawant, a reality television personality and dancer from Bollywood, has announced her traditional marriage to Adil Khan, a Muslim businessman, and model from Bangalore. Adil Khan breaks silence on marriage with Rakhi Sawant
Rakhi Sawant's change name
The actress married her lover by Muslim tradition. Adil, however, referred to the marriage as "false" and refuted the rumors when the media approached him. Rakhi was devastated by his response and broke down in tears during an interview.
Because his sister was getting married, he wanted me to keep the marriage a secret for a year. I went to the Bigg Boss Marathi 4 house because I trusted him.
Numerous incidents outside the Bigg Boss house while I was there were unacceptable to me. As a result, I uploaded photos of our wedding to social media. I was quite frightened. He loves me dearly, so why does he oppose our marriage? He must be under family pressure, Rakhi continued.
"I performed halal instead of haraam," she continued. While many people practice haraam, I practice halal. I'm not mistaken.
My mother is in the hospital," Sawant stated as he broke down in tears. She has cancer of the brain. I am concerned about her. Since the morning, Adil and I have not spoken. You can ask him why he won't talk to me. Why are such terrible things occurring to me? I don't know. Why? Why not?
Rakhi Sawant arrested in Mumbai for using 'offensive language' against Bollywood star
Adil's Statement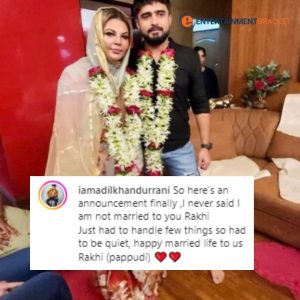 After remaining silent for several days, Adil Khan has now revealed that they had been wed since last year and that he was keeping quiet since he had some pressing matters to attend to. Adil recently shared a photo of the couple from their wedding and wrote, "So here's an announcement finally, I never claimed I am not married to you, Rakhi. Rakhi (pappudi) and I had a few things to take care of. Therefore our marriage had to be peaceful and cheerful. "Thanks, Jaan, tonnes of love," Rakhi Sawant wrote in response to the post.
Ramzan 2023: A glimpse of Bollywood celebrities who are fasting
The pair was congratulated by actors Devoleena Bhattacharjee and Ankita Lokhande.
Although Rakhi Sawant announced her wedding last week, Adil's side did not follow suit, sparking speculation that there may be trouble in paradise. Adil revealed to ETimes, after several days of quiet, "Well, sure, Rakhi and I are married. We are content to live together. However, he responded, "Woh procedure ab bhi chal Rahi hai," when asked if his family had received Rakhi (it is an ongoing process). There will be a wait.
In a previous snapshot taken of the Krazzy 4 actress behind the scenes of a photo session, Sawant declared that she would fully stop dressing revealingly because it is forbidden in Islam.
In the middle of the 2000s, Rakhi changed her religion from Hinduism to Christianity.
The dance queen previously said in an interview that Adil had given her a BMW and a luxurious property in Dubai. "Adil used my name to purchase a home in Dubai. He gave me a BMW the other day. But to be honest, his love is my treasure. He truly loves you. He is an ally. He is very serious about me; otherwise, why would a man tell his family about his love so soon?"
Their relationship is getting more serious by the day because she recently traveled to Dubai to meet Adil's family.
Rakhi Sawant married AGAIN? Pics of actress's court wedding with Adil Durrani go viral
She posted on social media last year to announce her divorce from her ex-husband Ritesh Singh. The starlet had expressed in her message that she was "very sad and upset." Rakhi initially presented Ritesh on national television during the Bigg Boss 15 episode.
Fans have been eager to find out who her husband is since the news of her wedding broke. Fans could not contain their excitement when Ritesh and Rakhi later entered Bigg Boss 15 since, at last, the mystery surrounding her spouse was cleared out. But the pair have broken up after spending so much time together and experiencing many ups and downs. Rakhi published a lengthy statement announcing her separation on Instagram today.
In a news interview, Sawant claimed that she is depressed at her husband's breakup and is snacking on sweet treats.
Dear admirers and well-wishers, Rakhi Sawant,
posted a message on her Instagram account. Ritesh and I have chosen to separate; I just wanted to let you know. After the Bigg Boss show, many things transpired, many of which I was ignorant since they were beyond my control. We have made efforts to resolve our issues and make things work, but I believe it would be better if we both moved on amicably and took pleasure in our own lives. That this had to happen before Valentine's Day broke my heart, but the choice had to be made. I wish Ritesh the best of luck in life, but I need to concentrate on my work, my family, and maintaining my happiness and health. I appreciate your continued patience and support.
Rakhi sobbed as she told the Times of India,
"He abandoned me! He left me despite how much I loved him. We began cohabiting at my Mumbai home after Bigg Boss a few weeks ago, but yesterday he packed his bags and departed. He claimed that he didn't divorce her previous wife because he was in legal difficulties, so he no longer wanted to live with me. He said he also lost money in his business because of the intense scrutiny he experienced after joining me in the Bigg Boss house. She said, "My heart fell when I found out he already has a wife and a child after leaving the Bigg Boss house." Rakhi added that she is struggling to accept the reality that everything has ended.