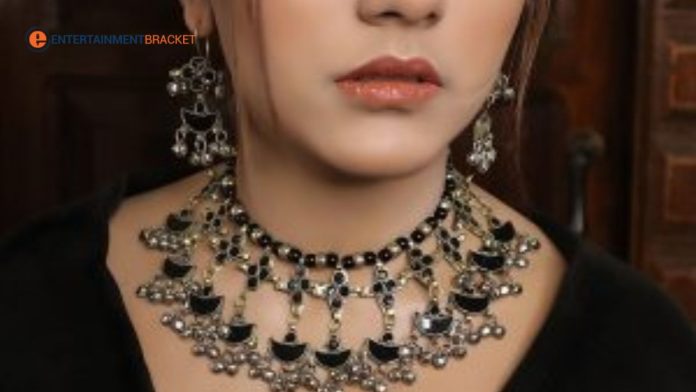 One of the two nations in the world having lapis deposits, Afghanistan is well know for its lapis lazuli crafts. The attractive aspects of Afghan Jewelry are among its most significant characteristics. They include cutwork, enamel work, and hand-painted motifs. As a depiction of the tribes, the jewellery includes some exquisite tribal elements.
The jewellery worn by Afghan women serves symbolic purposes in addition to being worn for fashion and adornment. For instance, it is believed that lapis lazuli has healing properties. Agate is a lucky charm and a representation of protection. Sterling silver similarly conveys modesty.
The inclusion of lovely stones gives Afghan jewellery its priceless quality. High-quality metal has precious and semi-precious stone engravings on it.
Summer Fashion Trend For Pakistani Women In 2022 
Zara Shahjahan Grabs Eyeballs For Steamy Photoshoot
The Specialty of the Afghan Jewelry
It would be accurate to state that due to the Russian invasion, Afghan refugees carried their culture with them when they settled in Pakistan. Although some returned home after the war, it significantly impacted the Pashtuns in Baluchistan and Khyber Pakhtunkhwa.
Along with traditional Afghan food, clothes, music, and dances, Pashtuns also successfully adopted traditional Afghan jewellery. Particularly among KPK ladies, the apparel and jewellery from Kochi are still well-known in Pakistan. Previously, only Afghan vendors would visit and sell their trinkets in the Peshawar shops where the jewellery and apparel were sold. But now, other regions of the city are also selling this jewellery.
It is sought in Afghanistan and other areas of the world because of its natural beauty and quality. The ornamental jewellery\'s attractive finish is very popular. Pakistani women are increasingly wearing jewellery from Afghanistan. Thankfully, the public in Pakistan is embracing its introduction.
Keeping In response to public demand and interest in traditional Afghan jewellery, Zewar Khan is pleased to present a sizable selection of these stunning jewellery items to you. to avoid having to travel to Peshawar to purchase your jewellery. Simply browse Zewar Khan\'s inventory from the comfort of your home and place an online order for your desired items. Zewar Khan offers you a plethora of designs to pick from. Based on the collection are:
Vintage Rings
You have many different old Afghan rings. These rings feature lovely Afghani designs on their outside. They have stones with vibrant engravings. These are crafted using vintage Afghani pieces, stones, and semi-precious pearls. Among the most well-liked rings in the assortment are
Bohemian Afghan ring
Bow and pearl ring
Teen phool Afghani ring
Jhumar ring
Lapis Afghan gold rings
Gold star rings
Coin rings
Emerald rings
Choker Necklaces
Shop until you drop at Zewar Khan\'s incredible necklace selection. Deconstructed versions of genuine Afghan jewellery are used for these necklaces. The adjustable necklines are available in your desired sizes. You also have a huge selection of huge choker necklaces. Top sellers include:
Bow and pearl choker
Lapis Afghan gold choker
Ruby Pearl necklace
Boho chokers
Cultured Freshwater grey pearl choker
Afghan Classic choker
Mala
Mala has long see as a high-class accessory. No matter what kind of jewellery is currently in style, it has consistently been at the top of the trends. The attractive Afghan themes on antique Afghan kinds of jewellery set them apart. These are ideal for both formal and casual occasions. The most popular Malas that we are showing you are as follows:
Ruby-emerald-pearl mala
Bohemian Long Mala
Tribal synthetic turquoise stone necklace
Viking Mala
Tribal carnelian stone mala
Hair Accessories
Along with the other accessories, we also sell attractive hair clips and other items for hair that are rooted in Afghan tradition. Unlike typical hair accessories, they give your hair a respectable appearance and elevate your style, making you appear more sophisticated and attractive.
Antique Earrings
With the earring sets in the Zewar Khan earring category, you may coordinate your chokers, rings, and necklaces. We have put together a vast assortment of Afghan jhumke, studs and earrings for you. Order yours today!
 Traditional Matha Patti
Afghan women, particularly the bride and her friends, wear matha Patti to weddings. In Pakistan, it is use as jewellery at weddings and other parties. Three different headdresses, including the customary caps with Matha Patti on them, were on show by Zewar Khan. Moreover, this collection also includes plain teekas and matha pattis.
Quality of our Traditional Afghan Jewelry
The metal has no corrosion. Metal is also free of corrosion due to its quality. It is precisely polish to stop oxidation and tarnishing. Additionally, metal\'s glimmer and shine won\'t lose their intensity with time. Because your satisfaction is our first goal, Zewar Khan works hard to bring the greatest accessories for you.