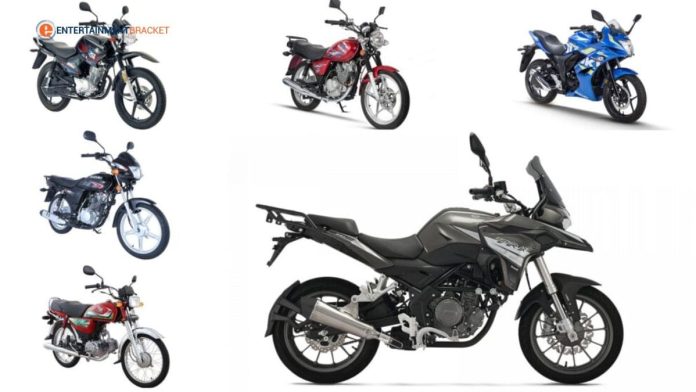 Owning a car or using one frequently has become unaffordable for many due to rising auto costs, gas prices, and general inflation. Most people can now not purchase many motorcycles due to the recent currency devaluation. In this post we discussed about Buy These Bikes for Under Rs 200,000
Thankfully, there are some bikes available for less than Rs. 200,000. Even though that sum is not insignificant, extreme inflation has made all these bikes appear inexpensive compared to some popular models.
Scooty for Girls – Scooty price in pakistan, Brands, and Features!
Following is a list of bikes that are still available for under Rs. 200,000:
Honda Atlas
Although prices have increased frequently, Atlas Honda is still the only well-known automaker offering bikes priced under Rs. 200,000. The following Honda motorcycles are included in the pricing range:
| | |
| --- | --- |
| Models | Price (Rs.) |
| CD 70 | 128,900 |
| CD 70 Dream | 137,900 |
| Pridor | 170,900 |
| CG 125 | 194,900 |
United Motor
Only Chinese bike manufacturers, excluding Honda, can offer a portfolio of bikes priced under Rs. 200,000. United Motors is a manufacturer of such bicycles. The following is a list of United Motorcycles that are less expensive than the cited sum:
| | |
| --- | --- |
| Models | Price (Rs.) |
| US 70 | 87,500 |
| US 100 | 92,000 |
| US 70 w/ Alloy Wheels | 92,500 |
| US 100 w/ Alloy Wheels | 97,500 |
| US 125 | 133,500 |
Road Prince
Due to the introduction of the 150cc Wego and Robinson bikes, Road Prince has also gained appeal among bike fans. Although those bikes are pricey, Road Prince's inventory includes many far less expensive ones. The following is a list of those bicycles:
| | |
| --- | --- |
| Models | Price (Rs.) |
| 70cc | 86,500-96,500 |
| 110cc | 94,500 |
| 100cc | 91,000 |
| 125cc | 130,500 |
Hi-Speed
Like Road Prince, Hi-Speed is a well-known Chinese bike manufacturer in Pakistan. Due to its cafe racer-inspired design, the Infinity SR 150 is its most well-known motorcycle. Other Hi-Speed bikes that can be purchased for less than Rs. 200,000 exist, even though that bike is not on this list:
| | |
| --- | --- |
| Models | Price (Rs.) |
| SR 70 | 86,800 |
| Alpha 100 | 193,500 |
| SR 125 | 135,000 |
Super Power
There are many bikes available from Super Power. But the majority of the motorcycles are variants on a single design. Additionally, the majority of its motorcycles fall within the budget above. These are the prices:
| | |
| --- | --- |
| Models | Price (Rs.) |
| SP 70 | 95,400-102,400 |
| SP 70 Deluxe | 115,400 |
| Cheetah 110 | 194,500 |
| SP 125 | 133,000 |
Unique
The following is a list of special bikes priced under Rs. 200,000:
| | |
| --- | --- |
| Models | Price (Rs.) |
| UD 70 | 95,000 |
| UD 100 | 105,000 |
| UD 125 | 135,000 |
Metro
The following is a list of Metro bikes priced under Rs. 200,000:
| | |
| --- | --- |
| Models | Price (Rs.) |
| MR 70 | 90,500-104,500 |
| MR 70 Dabang | 100,000 |
| MR 100 | 100,000 |
Tez Raftar
There is only one bike for sale on Tez Raftar's website. The cost of it is as follows:
| | |
| --- | --- |
| Models | Price (Rs.) |
| PS 70 | 88,500 |
Super Star
Additionally, Super Star only has one bike available for purchase online. The cost of it is as follows:
| | |
| --- | --- |
| Models | Price (Rs.) |
| SS 70 | 95,000 |
Pakistani Startup Launches an Electric Scooter