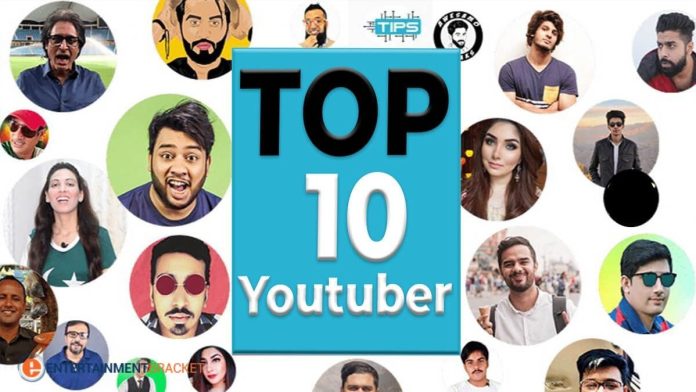 There has been an increase in the number of content creators around the world. The most popular platform for vloggers and influencers to gain exposure is YouTube. Youtubers in Pakistan have recently gained a lot of attention. So, if you're curious about which Pakistani Youtubers are sweeping the digital influencer world and who will Top 10 pakistani youtubers with the most subscribers in 2023. You've come to the right place!
From being famous on YouTube for creative and engaging videos to promoting informative content through vlogging. Pakistani vloggers had a large fan base. All of these Pakistani influencers are influencing how digital platforms are use in our daily lives.
The growing popularity of YouTubers in Pakistan has piqued many people's curiosity in starting their channel. The number of young YouTubers who work for other entrepreneurs to promote their businesses through their YouTube channels is also rising.
Many people in Pakistan launch a YouTube channel. But those that stay constant and demonstrate their perseverance and passion take the lead on this platform. Famous Pakistani YouTubers have contributed to the company's success. Many Pakistanis Youtubers launched their channel while staying at home in 2023 because of the COVID-19 pandemic. Home-based chefs' recipes, entertainment, beauty product unboxing videos, pranks, entertainment, tech videos, and a variety of other high-quality material have gained popularity during this time, allowing YouTubers to get more subscribers and monetize their channels in a short period.
Also Read: Top 10 Pakistani Tiktok Stars 2022
These Are the Most Watched Videos on YouTube in 2022
Youtube has Announced a New Section for Podcasts
Pakistan Youtubers Income
Pakistani YouTubers\' earnings are one of the main worries for newcomers and the general public who want to know how much they make by simply recording and sharing videos on YouTube. The best YouTubers, on the other hand, earn millions of Pakistani rupees per year. The emphasis here is on individual stars rather than mainstream channels; yet, when it comes to the biggest number of subscribers to Pakistani Youtube accounts, ARY Digital comes out on top, followed by a slew of other TV channels with YouTube channels in Pakistan.
Here are top 10 pakistani youtubers
1 – Salman Noman
At the time of writing this post, Salman Noman had 11.8 million followers on YouTube, making him one of the most well-liked users in Pakistan. After experiencing tremendous success with his short-form videos on TikTok, he moved to YouTube.
2 – Ijaz Ansari Food Secrets
Ijaz Ansari, who posts regular food videos with some delectable recipes to his YouTube channel called "Ijaz Ansari Food Secrets," is the second person on the Top 10 Pakistani YouTubers list in 2023.
In 2019, the YouTuber launched his channel, which now has more than 5.04 million subscribers.
3 – Ducky Bhai – Saad ur Rehman
Subscribe 4.5M
Saad ur Rehman, often known as Ducky Bhai, is a popular male Youtuber in the Comedy genre. He primarily posts short comedic skits on his Youtube account, which he also goes by the name Ducky Bhai. His humorous PUBG gaming videos, which are immensely entertaining and interact with other players openly, are fan favourites. He\'s also known for prank calls and other videos that feature smart and off-beat comedic remarks. His roast videos propelled him to fame on YouTube at first. He is number 7 on the top 10 Pakistani YouTubers list.
4 – Kitchen With Amna\'s cooking
Subscriber: 4.3 M
Amna Riaz is one of Pakistan\'s most popular female YouTubers, and she is the first Pakistani woman to obtain the YouTube Gold Play Button. Her channel is known as Kitchen with Amna, and it features her cooking knowledge and very delicious meals that are easy to make. She began her YouTube channel in 2016, and since then, she has amassed 47 million views and over 3.71 million subscribers, making her Pakistan's most subscribed female YouTuber. In the list of Top 10 Pakistani YouTubers, she is on top.
5 –  Asad Memon – Food Fusion
Subscriber: 4.19M
Asad Memon has a professional, easy, and distinctive cooking channel that showcases tasty recipes on YouTube. The channel\' Food Fusion\' is popular on Pakistani YouTubers and on Facebook, where people are flocking to try out its dishes. Asad Memon started this channel to teach people how to create different recipes step by step while watching videos. Meanwhile, the concept of making videos primarily without words by simply mentioning ingredients and stages has made it a lot easier for people to keep track of all the ingredients and cooking steps. This internet culinary program is well-liked by people of all ages, not just in Pakistan but throughout the world. Asad and Saima, co-owners of a company with a similar name, have established a wonderful local brand around their food as well as their YouTube recipes.
6 – P 4 Pakao, Nadir Ali
Subscriber 3.93  M
Nadir Ali is the king of entertainment and the creator of P 4 Pakao. Pakistan's most popular YouTube channel. For the past three years. It has evolved into an entertainment channel. It was also the first independent Pakistani channel to reach a million subscribers or followers.
He does, however, hold the distinction for being the first to reach 2 million YouTube subscribers. His pranks and humor troll the internet and memes demonstrate an interest in covering his work. For his P 4 Pakao channel, he currently has 3.49 million subscribers.
Nadir Ali is dedicated to his profession; he started his YouTube channel approximately six years ago and now has millions of followers on YouTube and Facebook, where his videos are popular, and many of them go viral. According to reports, Nadir Ali earns more than Rs.50 million every year from his YouTube channel.
7 – Mubashir Saddique – Food Secrets of the Village
Subscribe: 3.85 M
Mubashir Saddique should be on your Top 10 Pakistan Youtubers to Follow list if you\'re seeking some quality stuff. He is a food vlogger that operates the Community Food Secrets Youtube channel, where he highlights the simple lifestyle that is widespread in his village. His videos are unique in that he cooks with modest wooden and handcrafted tools. What's more fascinating is that he raises his vegetables and explains to his viewers how people in rural employ primitive cooking methods while sharing famous traditional recipes, making him a popular Pakistani Youtuber with a large following.
8  – Baba Food RRC
Subscriber: 3.78 M
Another food-related YouTube channel that makes a list has 3.78 million subscribers. Ramesh Rizwan Chaudhry, who runs the YouTube channel, posts traditional food recipe videos and videos with healthy food and dessert recipes.
9 – Qasim Ali Shah
Subscriber: 3.56 M
Qasim Ali Shah is a highly accomplished motivational speaker, influencer, trainer, author, and well-known public speaker from Pakistan. His YouTube channel, which he runs under his name, features various motivational and educational films about how to change your life. He also offers training sessions, making him Pakistan's most popular YouTuber in the educational category. He also operates a nonprofit organization known as the "Qasim Ali Shah Foundation," and his videos have aided many people in pursuing their dreams.
10 – Shoaib Akhtar
Subscriber: 3.43M
He maintains his funny demeanor on YouTube. However, we can see him speaking largely in Urdu in several of his recordings, which are intend for a local audience. He covers all elements of Pakistani and international cricket in his writings. He also conducts interviews with well-known cricketers, and the channel is one of Pakistan's fastest-growing since we all love cricket.
11 – Maaz Safder World
Subscriber: 3.01 M
A well-known YouTuber from Pakistan named Maaz Safder posts daily vlogs on his channel. Additionally, YouTube only launched its YouTube channel in 2020 and has amassed 3.01 million platform subscribers.
Based on our research, here are the Top 10 Pakistani YouTubers in 2023. As a result, if someone that belongs to the list was left off, please let us know in the comments section below, and we'll amend the post.
12 – Asad Ali TV
Subscribers 2.29M
Pakistani tech analyst Asad Ali TV also provides tech reviews. In his YouTube videos, he talks about IT audits, guidance, and deceptions daily. Among Asad Ali\'s many advantages is that he posts recordings in simple Urdu, which draws local and cross-border viewers alike. Local web-based media and social media success story Asad Ali of Faisalabad, Pakistan, has heralded as an example of overcoming adversity. When asked about the advantages of online media, he described how Pakistanis might benefit from it in an interview with Pakistan Television.
13 – Shahmeer Abbas 
subscribers on YouTube: 1.64M
Local star Shahmeer is sweeping the internet, including all social media platforms, with his dancing moves and prank flicks, in which he pranks random people on the street and has become a household. As a result, one of the fastest-growing Pakistani Youtubers.
10 – Awesamo Family 
Subscribers 1.49 million 
There is a well-known entertainment channel known as Khujlee Family called Awesome Family. As a result, all of their content focuses on their You can learn something from them and have a good time at the same time. Awsome Family is on number 10 of Top 10 Pakistani YouTubers list.