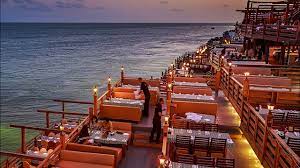 Do darya restaurants in karachi: Do Darya is a well-known location in DHA phase 8 and is consistently mentioned in highlights. This location is bordered on two sides and has unique natural characteristics. It is a well-known location for dining and food streets in Karachi due to its location and setting. Here, restaurants are open until late.
If you want to find the best Do Darya Karachi: Best Restaurants for dining by the sea. If you\'re going to Do Darya with friends and family, stay in touch with us, and we\'ll help you.
10 Top Hotels in Naran: Rent, Images, & Booking Details 2023
Best Do darya restaurants in karachi
Here is the list of best restaurants for dining by the sea at Do Darya.
Kababjees
kolachi
Sajjad restaurant
Al habib restaurant
charcoal bbq and grill
Kababjees
Do Darya Kababjees One of the nicest places to eat near the ocean is Kababjees restaurant. On the menu are Chinese, seafood, Chinese, continental, and desi cuisines. Every one of their dishes is well-known for its delectable flavor.
Kababjees competes with other eateries to offer the greatest food and service. Their menu offers a wide selection of cuisine products.
12 best hotels in lahore to stay in 2022 
For instance, Lahori Fish, Seafood Chowder soup, Tempura Grilled Fish, Malai Botti, Mexican Wings, and Chicken Makhni Handi are some of their most well-liked menu items.
American beef steak, grilled chicken sandwich, white mutton karahi, fire chicken steak, Moroccan chicken steak, and chicken Reshmi Kabab are further options. Food lovers are free to select their favorites and partake in their meals.
The hours of Kababjees are 6 p.m. to 1 a.m. A reservation can be made by calling 021-111666111, their contact number.
Kolachi
Another top contender on the list of dining establishments close to Do Darya in Karachi is Kababjees Kolachi. Its food products are well-known for having excellent flavors. At Do Darya Karachi, it is regarded as one of the greatest restaurants for serving the tastiest BBQ.
Restaurants in Kolachi provide a variety of dishes, from continental to Indian. Royal Texas burgers and Philly beef are two of their best-selling menu items. Beef steak, ginger gravy, chicken malai boti, Makhni handi, brain masala, mushroom sauce, cheese, beef steaks, mixed kata kat, and Peshawari karahi are some of the other well-known dishes.
Restaurant Kolachi is open from 7 p.m. to 1 a.m. Contact them at 021-111111001 if you wish to go and reserve a table.
Sajjad Restaurant
One of do darya restaurants in karachi top dining establishments, Sajjad, is well-liked by barbecue fans. In various parts of Karachi, it has more branches. They didn\'t skimp on the standard or flavor of the dish.
Since its opening in 2000, the Sajjad restaurant branch at Do Darya has enjoyed tremendous success. Chicken jalfrezi, chicken tandoori tikka, combination steak, crispy fish, mutton ribs, chicken malai tikka, chilly kabab, chicken chowmein, and dhagga kabab are some of their best-selling menu items. There are numerous other popular foods. But if you go there, just try one of the abovementioned lists.
Restaurant Sajjad is open every day from 5:30 p.m. to 12:30 a.m. You can make reservations by calling 0333 2228111.
Al Habib Restaurant
Al Habib Restaurant is a wonderful addition to the selection of eateries close to Do Darya that not only offers a wide selection of energizing food items but is also designed for pleasurable dining. Like its other locations in the city, it has a stylish design. It is the ideal location for dining close to Do Darya because of the open view of the Arabian Sea, which enhances the pleasure of the meal.
Mutton Karachi, Malai Botti, Grilled Chicken, Chicken and Mutton White Karahi, Chicken Reshmi Kabab, and many other dishes can be found on the Al Habib Restaurant menu.
You can also make a reservation for a seat at Al Habib Restaurant by calling the number 0300 0210972 if you wish to go to Do Darya and eat there. It is open until 2 in the morning, from 5:30.
8 Restaurants In Islamabad That Are Open 24×7!
Charcoal BBQ and Grill
Another well-known dining establishment in Karachi\'s Do Darya is Charcoal BBQ & Grill. Guests are seated in a beautiful setting, and professionally trained employees serve the food. Families and groups of friends will like this restaurant the most.
There are many different cuisine dishes on the charcoal BBQ and grill meal menu. Charcoal Fire steak, Tarragon steak, BBQ cooked chicken, Grilled Mexican chicken, Grilled mutton chops, Black Paper Chicken, Steak and Shrimp, Tandoori Chicken Skewers, and many other dishes are recommended to visitors who are visiting for the first time.
Restaurant \"Charcoal BBQ & Grill\" hours are 5:30 p.m. to 12:30 a.m. Additionally, customers can make a reservation by calling the number below. 03232001045
The Best Route for Do Darya
You\'ve come to the right place if you\'re looking for information on the best route to take when visiting \"DO DARYA.\"
You should use \"Abdul Sita Edhi Avenue,\" called the \"sea view road,\" to get to Do Darya. It is one of the most well-liked and effective ways to get to Do Darya and the well-liked DHA Karachi route.
Nearby Popular Tourist Points
Below are a few well-known tourist destinations close to Do Darya.
The \"Creek Vistas Apartment\" is just ten minute drive away.
Another well-known location nearby is \"DHA Golf Club,\" which might require a 7-minute drive.
\"DHA Beach View Club\" is only 6 kilometers from the Do Darya and is accessible by car in 10 minutes.
The \"Clock Tower,\" also know as the \"Food Bazar,\" is another well-like location close by and is situated at a distance of 5.3 km, or around 9 to 10 minutes by car.
Only two kilometers separate it from the renowned \"Emaar Crescent Bay,\" and it may take three to four minutes to get there.
About 9.5 kilometers separate \"Dolmen Mall Clifton\" from \"Do Darya.\"
There, people can go and have a good time.
Nearby, at a distance of approximately 6.9 kilometers, is another tourist attraction called \"Sea View Garden and Chunky Monkey.\"
Final Note
The above information on do darya restaurants in karachi for Dining by the Sea was provided. You may now check out their exclusive menu list and pick your favorite eatery. Please share your restaurant-going experience with us if you go to this location.