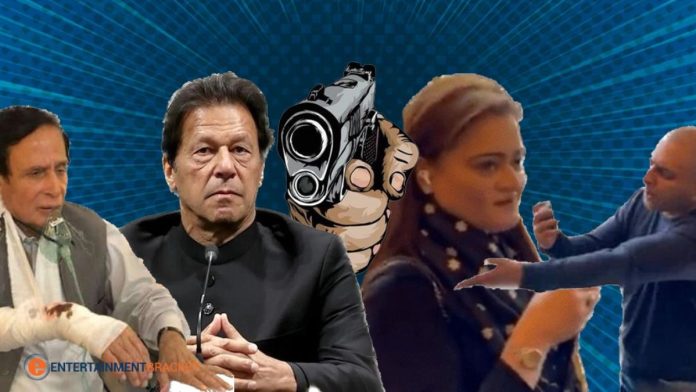 We all shared incidents in 2022 that completely upended Pakistan. The entire country was shaken by numerous incidents, some of which deserve criticism. Politics was shaken up by significant events, including the no-confidence vote that led to the resignation of Prime Minister Imran Khan and the divisive race for Punjab's Chief Minister (CM) seat between Pervaiz Elahi and Hamza Shehbaz. We discussed about just pakistani things.
We sincerely hope that Pakistan's constitutional crises don't continue in the upcoming year.
Another Prime Minister not completing his constitutional term
A no-confidence vote resulted in the resignation of a sitting prime minister for the first time in Pakistan's history. After serving as the leader of the government for more than three years, PM Imran Khan was ousted in April. No Premier has ever served out the entire term in Pakistan's 75-year history. We hope that the person selected by the people to lead them the following time keeps their word and is allowed to complete their term.
Politicians not getting harassed
During a three-day visit to Saudi Arabia in April, immediately following the formation of a new government, a group of Pakistani pilgrims heckled, accosted, and chanted anti-incumbent PM Shehbaz and his entourage at the Masjid-e-Nabwi in Madina. These episodes persisted throughout the year.
Marriyum Aurangzeb, the minister of information, received jeers in a London coffee shop. While Ishaq Dar, the finance minister, was bullied by unidentified individuals in Washington, DC, PTI supporters harassed Ahsan Iqbal, the minister of planning and development, in a restaurant. It was noticed that a specific party was being singled out. It just pakistani things. No one has the right to harass someone, whether or not these instances occurred because of a false story.
Not making public figures a target of gun
We have observed how some of our public figures continue to be targeted this year. The second part of the year saw the occurrence of two terrible events. Senior anchor Arshad Sharif was shot and killed by local police on October 23 outside of Nairobi, Kenya. Local law enforcement officials classified the homicide as a "mistaken identity" crime. Some, however, referred to it as an assassination. Authorities have so far been unable to identify the true offenders. On day seven of the PTI's "Haqeeqi Long March," on November 3, as Imran Khan's container travelled through Wazirabad in Punjab, there was an attempt on his life. Imran Khan managed to escape. How many murders do we have to see before Salman Taseer, Shahbaz Bhatti, and Benazir Bhutto are all dead?
No more constitutional crisis
The Punjab Assembly witnessed a scuffle among lawmakers for the position of chief minister. The start of the summer wasn't pleasant for Pakistan because, in April, there was a fight between the opposition and treasury benches in the Punjab Assembly that left PML-Q leader and Punjab Assembly Speaker Pervaiz Elahi hurt. The same day, the PML candidate N's for CM, Hamza Shehbaz, was chosen; however, the Supreme Court later overturned Deputy Speaker Dost Muhammad Mazari's decision about the election. Later, Pervaiz Elahi took over as CM, but he had a rather small Assembly majority.
Terrorism wave in Pakistan
Attacks began to increase just as we believed that terrorism had finally ended. The capital is currently on high alert due to serious threats. Tehreek-e-Taliban Pakistan (TTP) reportedly broke off a ceasefire with the federal government in late November and instructed its militants to carry out terrorist strikes nationwide. The citizens of Islamabad, one of the safest cities in Pakistan, were shocked on December 23 by a suicide bombing. Pakistanis don't want to begin living in fear again after coping with terrorism for so long. these are just pakistani things.
CPEC 2022: Chinese green investment on rise, Pakistan to get 30 % renewable energy by 2030