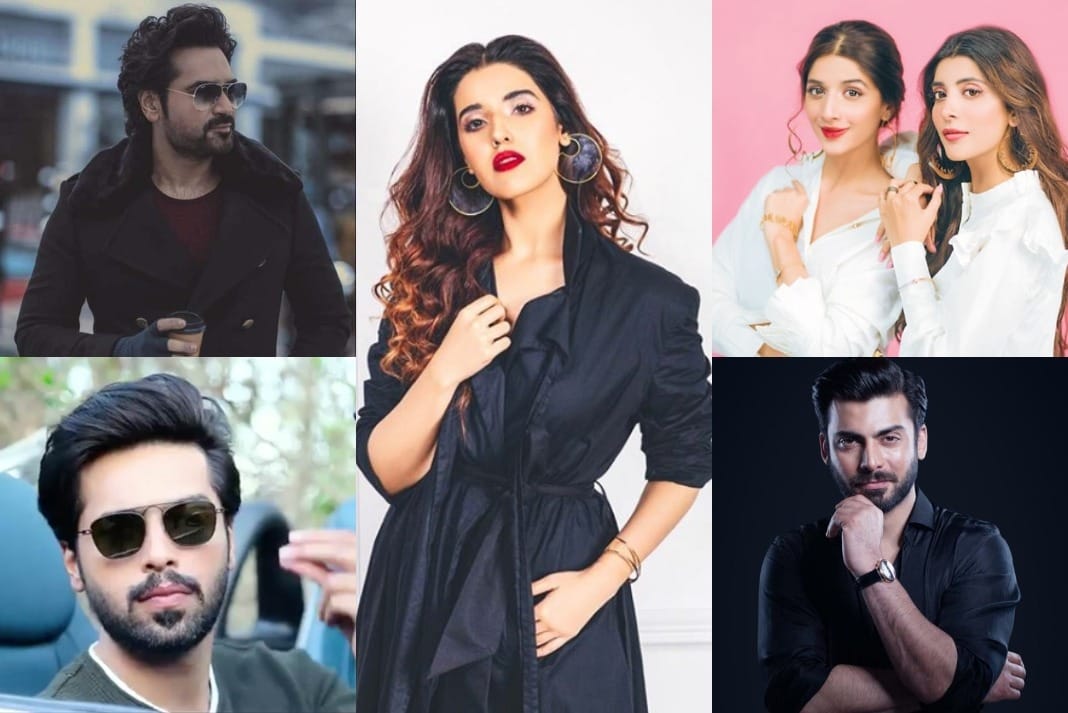 Starting own business is the new trend of the industry. Many Pakistani celebrities have chosen to start their side business. It is the trend worldwide that celebrities run their businesses once they earn enough money from their primary Job. It is the best idea to invest money in the business because that ensures personal growth. There are also those celebrities who have a lot of creativity. So, instead of acting in dramas alone, they are now making dramas and even films. So that is another way of going further in the same field.
1 – Big Bang Entertainment – Fahad Mustafa
Besides acting and hosting the famous show Jeeto Pakistan, Fahad is now the owner of Big Bang production.
2 – Sig Sigma ENtertainment – Humayun Saeed
The Mere Pass Tum Ho famed actor runs his own drama and movie production company named Six Sigma Plus. Moreover, in partnership with his sister-in-law, he is now forming another big production house with the title Epic Entertainment.
3 – Connect Studios – Faysal Quraishi
After giving hit performances in drama serials, Faysal Qureshi too recently started his own production house with the name Connect Studios.
Also Read
30 Under 30 Asians From the World of Entertainment Includes Our Pakistani Stars
4 – IRK Productions – Hareem Farooq
The gorgeous actress of Heer Maan Ja also runs her production house along with her partners and she has also been part of the most popular films produced by the production house which is named IRK Productions.
5 – YNH Films – Nida Yasir & Yasir Nawaz
Yasir Nawaz and Nida Yasir also stepped into the world of production a few years back with the name YNH Films.
6 – Cereal Entertainment – Adnan Siddiqui
Adnan is an actor associated with the Pakistani showbiz industry for a decade now. Also, he has a production house named Cereal Entertainment.
7 – Odho Cosmetics – Atiqa Odho
Atiqa is a renowned model and actress. However, she owns a cosmetic brand Odho Cosmetics. Moreover, she has a production house too named Odho Production.
8 – NH Bling Cosmetics – Nadia Hussain
Nadia Hussain is an actress and a model who too runs her own salon Nadia Hussain Bridal Salon and Clinic and has recently started her cosmetic brand as well named NH Bling Cosmetics.
9 – Juggan's Pret – Juggun Kazim
Juggun Kazim also runs two different businesses which are a salon and a gym. Also start her own cloth brand Juggan's Pret.
10 – Ahsan Khan Clothing – Ahsan Khan
Ahsan Khan has his own fashion outlet in Lahore named Ahsan Khan Clothing.
11 – UxM – Urwa & Mawra Hocane
At the side of acting, Hocane sisters have their own clothing outlet named as UxM.
12 – Omal By Komal – Komal Aziz Khan
She also has her own clothing line named as Omal By Komal.
13 – Silk – Fawad Khan
We don't need to introduce him because who doesn't know him?? Well, besides being a great actor, he has a clothing brand called Silk which he co-owns with his wife Sadaf Fawad Khan.
14 – MTJ – Molana Tariq Jameel
Molana Tariq Jameel has started a fashion brand. He is using the revenues to donate to great causes.
15 – Sanam Jung Fragrances
Sanam Jung has launched an entire line of fragrances with her name. Pakistani celebrities instant of focuses on their career they prefer to start new business.
16 – Ayesh O
Ayesha Omar has introduced skincare products and the speciality is that they are all organic.
17 – Aiman Minal Closet
Aiman Minal closet is the joint clothing line by Aiman and Minal Khan.
18 – Epic – Mikaal Zulfiqar
Content marketing agency, EPIC is Mikaal Zukfiqar's venture. Apparently, he has a knack for doing business.
19 – Chai Ho Jaye? Abdullah Sultan
Anchor Abdullah Sultan has started his chai dhaba and it is being said that it is a must-try for all chai lovers.
20 – Aiman Khan Fragrance
Aiman Khan has also ventured into starting her own fragrance line. Now many Pakistani celebrities focuses on their personal brand.
21 – A&B Productions – Asif Raza Meer
Asif Raza Meer veteran actor owns the country's best drama and entertainment production company named A&B Productions.
22 – Rafi Peer – Sameena Peerzada
Sameena Peerzada along with her husband owns a theatre house Rafi Peer Theatre group along with Peru\'s cafe which is owned by Usman Peerzada and brother in law Faizan Peerzada. Pakistani celebrities start their side business.
23 – Al Kabab Restaurant – Shahid Afridi
Shahid Afridi owns a restaurant known as Al Kabab
24 – J. – Junaid Jamshed
The late Junaid Jamshed had been in the business field for very long, the J. franchises across Pakistan and worldwide are owned by him.
Fans say they love Mahira Khan but won't buy her Expensive plain kurtas