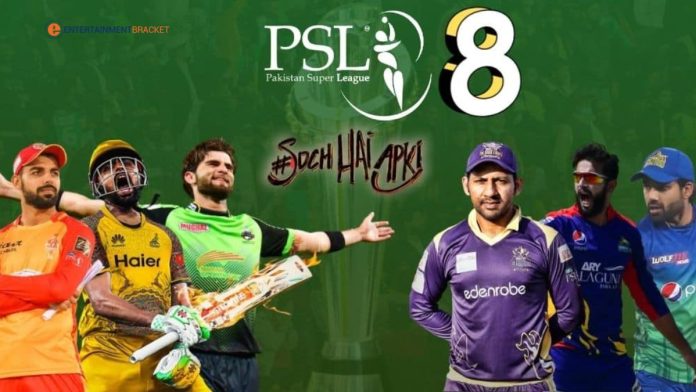 The official PSL 8 Schedule for the season of the Pakistan Super League has been released by the Pakistan Cricket Board (PCB) (PSL). The opening day of Pakistan's main T20 event is February 13, and the tournament's finale is March 19.
Lahore Qalandars, the defending champions, and Multan Sultans, last year's finalists, will square off in the tournament's first game at the Multan Cricket Stadium. The same location will also host the opening ceremony.
The following day at National Bank Arena, the tournament's second game would be contested (formerly National Stadium Karachi). As Babar Azam returns to face his former side, the Karachi Kings, the tournament will heat up. The match between Peshawar Zalmi and Karachi Kings will occur at National Bank Arena on February 14.
PSL 2022 Tickets: How to Buy PSL 7 Tickets Online?
The 34-match competition will be contested at four locations, including Multan, Karachi, Lahore, and Rawalpindi, per the PSL 8 schedule. Before the teams proceed to Rawalpindi and Lahore for the tournament's final stages, the first round will be conducted in Multan and Karachi.
The PSL 8 final will be held at Gaddafi Stadium in Lahore, and the playoffs will also be held there. The tournament's most matches, 11, will be played in Rawalpindi. Karachi and Lahore will each host nine matches. In the first five days of the competition, Multan will host five games.
Who Will Win The Pakistan Super League in 2023?
Here is the full schedule:
| | | | |
| --- | --- | --- | --- |
| Date | Fixture | Time | Venue |
| 13 February, 2023 | Multan Sultans vs Lahore Qalandars | 8:00 pm | Multan Cricket Stadium |
| 14 February, 2023 | Karachi Kings vs Peshawar Zalmi | 7:00 pm | National Bank Cricket Arena, Karachi |
| 15 February, 2023 | Multan Sultans vs Quetta Gladiators | 6:00 pm | Multan Cricket Stadium |
| 16 February, 2023 | Karachi Kings vs Islamabad United | 7:00 pm | National Bank Cricket Arena, Karachi |
| 17 February, 2023 | Multan Sultans vs Peshawar Zalmi | 6:00 pm | Multan Cricket Stadium |
| 18 February, 2023 | Karachi Kings vs Quetta Gladiators | 7:00 pm | National Bank Cricket Arena, Karachi |
| 19 February, 2023 | Multan Sultans vs Islamabad United | 2:00 pm | Multan Cricket Stadium |
| 19 February, 2023 | Karachi Kings vs Lahore Qalandars | 7:00 pm | National Bank Cricket Arena, Karachi |
| 20 February, 2023 | Quetta Gladiators vs Peshawar Zalmi | 7:00 pm | National Bank Cricket Arena, Karachi |
| 21 February, 2023 | Quetta Gladiators vs Lahore Qalandars | 7:00 pm | National Bank Cricket Arena, Karachi |
| 22 February, 2023 | Multan sultans vs Karachi Kings | 6:00 pm | Multan Cricket Stadium |
| 23 February, 2023 | Peshawar Zalmi vs Islamabad United | 7:00 pm | National Bank Cricket Arena, Karachi |
| 24 February, 2023 | Quetta Gladiators vs Islamabad United | 7:00 pm | National Bank Cricket Arena, Karachi |
| 26 February, 2023 | Karachi Kings vs Multan Sultans | 2:00 pm | National Bank Cricket Arena, Karachi |
| 26 February, 2023 | Lahore Qalandars vs Peshawar Zalmi | 7:00 pm | Gaddafi Stadium, Lahore |
| 27 February, 2023 | Lahore Qalandars vs Islamabad United | 7:00 pm | Gaddafi Stadium, Lahore |
| 1 March, 2023 | Peshawar Zalmi vs Karachi Kings | 7:00 pm | Rawalpindi Cricket Stadium |
| 2 March, 2023 | Lahore Qalandars vs Quetta Gladiators | 7:00 pm | Gaddafi Stadium, Lahore |
| 3 March, 2023 | Islamabad United vs Karachi Kings | 7:00 pm | Rawalpindi Cricket Stadium |
| 4 March, 2023 | Lahore Qalandars vs Multan Sultans | 7:00 pm | Gaddafi Stadium, Lahore |
| 5 March, 2023 | Islamabad United vs Quetta Gladiators | 7:00 pm | Rawalpindi Cricket Stadium |
| 6 March, 2023 | Quetta Gladiators vs Karachi Kings | 7:00 pm | Rawalpindi Cricket Stadium |
| 7 March, 2023 | Peshawar Zalmi vs Lahore Qalandars | 2:00 pm | Rawalpindi Cricket Stadium |
| 7 March, 2023 | Islamabad United vs Multan Sultans | 7:00 pm | Rawalpindi Cricket Stadium |
| 8 March, 2023 | Peshawar Zalmi vs Quetta Gladiators | 7:00 pm | Rawalpindi Cricket Stadium |
| 9 March, 2023 | Islamabad United vs Lahore Qalandars | 7:00 pm | Rawalpindi Cricket Stadium |
| 10 March, 2023 | Peshawar Zalmi vs Multan Sultans | 7:00 pm | Rawalpindi Cricket Stadium |
| 11 March, 2023 | Quetta Gladiators vs Multan Sultans | 7:00 pm | Rawalpindi Cricket Stadium |
| 12 March, 2023 | Islamabad United vs Peshawar Zalmi | 2:00 pm | Rawalpindi Cricket Stadium |
| 12 March, 2023 | Lahore Qalandars vs Karachi Kings | 7:00 pm | Gaddafi Stadium, Lahore |
| 15 March, 2023 | Qualifier (1st vs 2nd) | 7:00 pm | Gaddafi Stadium, Lahore |
| 16 March, 2023 | 1st Eliminator (3rd vs 4th) | 7:00 pm | Gaddafi Stadium, Lahore |
| 17 March, 2023 | 2nd Eliminator (1st Eliminator Winner vs Qualifier Runner-up) | 7:00 pm | Gaddafi Stadium, Lahore |
| 19 March, 2023 | Final | 7:00 pm | Gaddafi Stadium, Lahore |