Rakhi Sawant arrested: Days after Sherlyn Chopra wed actor Adil Khan Durrani, Bollywood's queen of controversy Rakhi Sawant was detained in a complaint brought by the latter. According to reports in Indian media, the Mumbai police detained the Badmaash No. 1 star earlier today in connection with the FIR filed against her under multiple sections, including defamation.
Adil Khan breaks silence on marriage with Rakhi Sawant, makes an announcement
According to Mumbai Police, Sherlyn Chopra, another contentious celebrity, reported Rakhi for using inappropriate words and exhibiting an undesirable video of her during a press conference.
Rakhi has been arrested by the police and is being held on reman, Sherlyn announced on social media. Breaking information! Rakhi Sawant was detaine by Amboli police yesterday in connection with FIR 883/2022; the Mumbai Sessions court has reject Rakhi Sawant's ABA 1870/2022.
Rakhi Sawant arrested
The complainant made it clear that Rakhi's behavior had upset her and that it was time for Rakhi to make amends.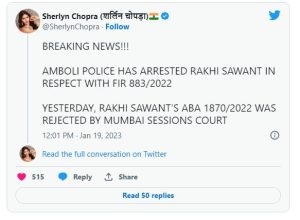 Days after Rakhi and her husband continued to make headlines, the newest development happened. The Bigg Boss contestant's marriage literally had the internet going crazy, but her spouse appeared reserved and hesitant to react or confirm any news.
Rakhi Sawant Shares Video Of Herself Offering Namaz
The Pardesiya dancer released photos from her Nikah ceremony, but Durrani steadfastly declined to speak or give any information to tabloids. The billionaire has since announced on Instagram that he is married to Sawant.
There were numerous videos of Sawant reciting Kalma and converting to Islam, and she also published images of the couple holding their marriage license and donning garlands. Additionally, it appears from the marriage license that Sawant adopted the name, Fatima.
Also Read
Rakhi Sawant Mother Passes Away, Husband Adil Durrani Confirms