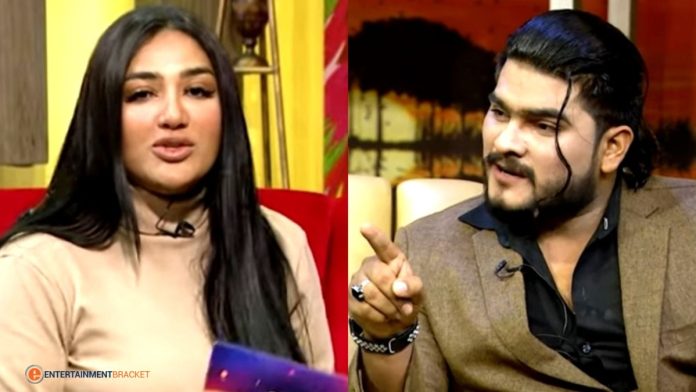 TikToker Asad Ray: Pakistani social media sensation Asad Ray is well-known for his Tiktok videos. Asad Ray became well-known thanks to her lip-syncing videos. 7.5 million people follow him on TikTok. Asad Ray can now be found on YouTube. On YouTube, he publishes his daily vlogs.
Mathira Flaunts Her Curves as She Sets New Fitness Goals
Recently, Mathira and another female social media personality joined TikToker on the Insta Show. During their interaction with Mathira, the TikToker made a rather contentious statement. While Mathira was asking him a question, "have you ever fought with someone? He said, "fight with whom? I live with my wife, with wife? Yes, I just came here after beating her"
TikToker Asad Ray
Asad's comment about abusing his wife was immediately picked up by Mathira, who then cross-examined him about it. This is not a joke, it doesn't sound good, and such statements shouldn't be spoken. Mathira began correcting him, telling him, "Your words were too awful, it's not a joke," and that she despises such men.
After being corrected by Mathira, Asad Ray clarified his remarks, saying, "I told you previously that I respect my wife. You are an intelligent lady. You must be right about my comments; I barely completed my matriculation exams by cheating. Asad Ray spoke candidly about losing his daughter in the second half.
Youtuber ShamIdress and Queen Froggy announced their sepration