Royalties bill for showbiz artists: It's time for the government to recognise artists' efforts and reward them in the greatest way possible, especially in light of movies like Joyland and The Legend of Maula Jatt that are making the country and the global entertainment community happy.
Royalties bill for showbiz artists
Despite numerous protests and pleas, the entertainment sector has long complained that lawmakers have refused to pay artists their due royalties. However, 2023 will bring forth all the adjustments required for the business and the artists to prosper.
A New Hope: World Movie Awards Organization
Sen. Faisal Javed Khan of the Pakistan Tehreek-e-Insaf (PTI) has declared that Lollywood actors and actresses would be treate royally in recognition of their contributions to Pakistani culture and cinema.
Artists get paid royalties when a project they work on is rerun or used in any other way.
In response to artist requests, Senator Khan had earlier stated that a royalties bill was in the works. The fact that "there is no policy or law ensuring that artists are given financial credit for their work" was acknowledge at the time by Khan. A few months later, the senator informed the public that the Senate had received the resolution.
Representative Khan tweeted, "after last year's unanimous passage of the resolution. I'm happy to report that it was a pleasure to introduce the much-needed royalties measure today, especially for the struggling artists in our nation. #RoyaltiesForArtists Insha'Allah, I'm hoping to see it passed soon."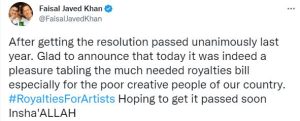 In a subsequent tweet, he stated: "Due to duplicate and outdated sections of pertinent legislation, artists have long struggled with receiving fair and appropriate royalties. The purpose of the amendment to the Copyright Ordinance of 1962 is to provide the Copyright Board more authority to set royalties for work assignment and licencing."

Omair Rana, a well-known actor, added his voice and congratulated the senator for his work. Tweeted Rana: "This one valiant battle has the potential to honour all Pakistani artists and serve as the catalyst for the growth of startups, entrepreneurs, and businesses of all kinds in addition to the culture-driven sector. Zindabad Pakistan! #RoyaltiesForArtists"
Mikaal Zulfiqar, an actor, also praised Khan and posted the information on his Instagram stories along with an emoji for applause.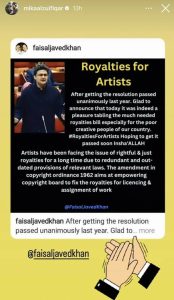 All artists can earn a profitable living from their work by paying royalties.