Taylor Swift, a well-known musician in Hollywood, is the epitome of a cat woman. The third most expensive pet in the world, owned by the 33-year-old singer-songwriter with a $450 million net worth, is a much-loved companion.
Olivia Benson, the singer Look What You Made Me Do's beloved pet cat, has reportedly been valued at a stunning $97 million, according to a recent study by All About Cats. On the basis of Instagram analytics, the ranking was developed.
The listing stated, "Olivia has achieved success outside of the world of Instagram influencing."
The Scottish fold made her riches by co-starring with her owner in various music videos, creating her own clothing line, and making cameo appearances in numerous high-profile advertisements.
Former Model Farwa Kazmi Blessed With Baby Girl
To begin with, Olivia is named after the well-known Law & Order: Special Victims Unit character played by Mariska Hargitay. Along with appearing in advertisements for AT&T, Diet Coke, DirectTV, and Me!, Swift's cat also appeared in the music videos for Blank Space and Me!
Despite not having a social media account of her own, Olivia frequently makes an appearance on Swift's Instagram.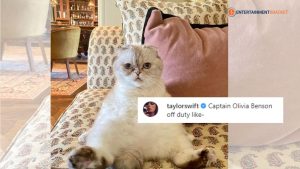 Jacqueline Fernandez Looks Ravishing in Pakistani Bridal Couture