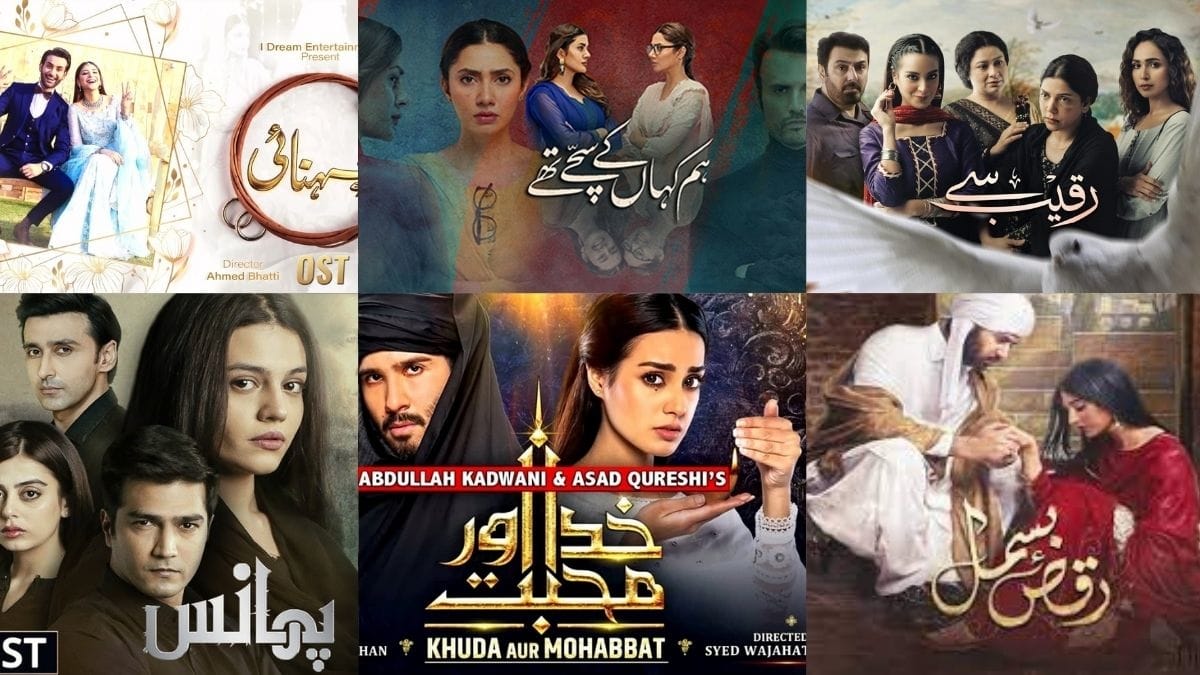 We have a list of the top 10 Pakistani dramas 2021 that you must watch, as we have watched an outstanding range of drama serials in the year 2021. These drama series have already started airing. The captivating plot Drama, paired with the director\'s fantastic directing, amazing characters, and equally outstanding acting skills, are all factors that lead to the drama\'s popularity. Top Pakistani drama 2021is on air on different tv channels. Here is The list of Pakistani top dramas 2021. We all know that free time isn\'t just about going out and socializing. Watching good dramas on your favorite TV networks is the perfect way to pass the time during this period.
Why Sar-e-Raah is Trending on Twitter?
1 – Khuda Aur Mohabbat 3
From the top 10 Pakistani dramas 2021, Khuda Aur Mohabbat 3 is the one to watch. 2021 is the year of a new Geo TV drama. Season 3 of Khuda Aur Mohabbat is a popular Pakistani spiritual and romantic drama. Seasons 1 and 2 of Khuda Aur Mohabbat were fantastic dramas with a fantastic cast and story. The drama is filled with romance, love, and suspense—the cast of Khuda Aur Mohabbat Season 3, as well as other intriguing facts about the new show. Viewers will treated to a variety of excellent actors in this drama.
2 – Raqs e Bismil 
Raqs e Bismil  Drama is one of the Pakistani top dramas 2021 series, having gone viral on social media before debuting on television. Love was at the center of Raqs-e-narrative. Bismil\'s Sarah Khan and Imran Ashraf, newlyweds, were featured in this serial. They come from different backgrounds, but they fall in love with each other. Raqs-e-Bismil was a romantic and emotional film. Because of their distinct environments, the pair will have difficulties. Sarah Khan and Imran Ashraf have reached the pinnacle of their careers. And in this drama, they\'ll both be at the top of their game.
3 – Phaans
This drama\'s working title was \"Badzaat,\" however it will be released under the title Phaans. Zara Noor Abbas will make her screen debut alongside Shahzad Sheikh and Sami Khan. Phaans is a Hum TV drama series on a societal problem. Udaari, Bandi, Inkaar, and many other plays on Hum TV deal with societal themes. This play deals with societal themes as well. In this play, Shahzad Sheikh will take on an entirely new persona. Although we have seen numerous dramas about rape and sexual abuse, this drama emphasizes the pressures that the lower class experiences in such a situation.
4 – Raqeeb Se
The story is elegant and emotional. It\'s a complicated love story. It lacks the customary glitz and flare of a couple\'s love tale. Social themes will address in the drama. In Raqeeb Se, Iqra Aziz will play a powerful role. Raqeeb Se is a Pakistani drama. Kashif Nisar, director and writer Bee Gul. Raqeeb Se is a family drama with a talented cast who will add to the intrigue of the serial with their outstanding performance. Raqeeb sa is on number 4 in top Pakistani drama 2021
5 – Pehli Si Muhabbat
 Drama Pehli Si Muhabbat is around two lovers\' love, emotions, lunacy, attachment, and romance. It\'s not your normal love story, and the cast of this drama makes it entertaining and worthwhile to watch. Maya Ali and Sheheryar Munawar are the central characters in the novel. Aslam, played by Sheheryar Munawar, is an engaging and passionate character who is madly in love with a girl and is involve in a fatal tragedy. The plot centers around the lovebirds\' struggle to keep each other for the rest of their lives.
6 – Fitoor
Fitoor is a Pakistani top dramas 2021 created by Zanjabeel Asim Shah, directed by Siraj Ul Haq, and produced by Abdullah Kadwani and Asad Qureshi\'s 7th Sky Entertainment. It premiered on Geo TV on January 14, 2021, and has since been the most popular drama in Pakistan. Fitoor tells a narrative of a love that transcends all, as a person in love forgets about the troubles of the past and the unknowns of the future.
7 – Qayamat
Qayamat drama is a popular Pakistani drama that tells the narrative of a young, energetic girl who makes life decisions for everyone around her in 2021. In the end, all hell breaks loose when she and her closest friends make the same mistakes and cast a pall over her future. Ifrah, like her parents and older sister Samra, is from a middle-class family who values hard work and honesty. Mukhtar, Ifrah\'s uncle, wants Samra to marry his son, Rashid, putting Ifrah and Samra\'s parents in a difficult situation. The family agrees to her proposal without Samra\'s consent. But soon after the wedding, Samra is abused by Rashid and abandons Ifra, who faces awful repercussions.
Qayamat is a top Pakistani drama 2021 written by Sarwat Nazir, directed by Ali Faizan Anchan, and produced by Abdullah Kadwani and Asad Qureshi\'s 7th Sky Entertainment.
 8 – Hum Kahan Ke Sachay Thay 
Hum Kahan Ke Sachay Thay is based on a novel of the same name written by famous writer Umera Ahmed and directed by Umera Ahmad director Farooq Rind of Ishq Zahe Naseeb and Pyar Ke Sadqay fame. However, It is one of the most anticipated dramas of the year. Mahira Khan\'s comeback to television after a six-year absence is one of the serial\'s primary features. Hum Kahan Ke Sachay Thay is a love, hate, and complex relationship narrative with mystery, suspense, and powerful female characters. Mehreen, Mashal, and Aswad, played by Mahira Khan, Kubra Khan, and Usman Mukhtar, respectively, are three cousins. Mahira Khan Returning To Small Screen With Drama 'Hum Kahan Ke Sachay Thay.
9 –  Shehnai
Ary Digital\'s Pakistani serial Shehnai stars Affan Waheed and Ramsha Khan. Ahmed Bhatti directed, and Abdullah Seja produced this drama. However, Shehnai is on the list of top 10 Pakistani dramas in 2021. This drama stars Affan Waheed and Ramsha Khan in the key roles.
10 –  Dunk
Dunk is another fantastic drama that is now airing on ARY Digital and has received a lot of positive feedback. Nauman Ijaz, Sana Javed, and Bilal Abbas are among the key characters in Dunk\'s drama series. The scenario of Dunk also includes a harassment case, but there is a new element to consider. Each new episode introduces a new chapter in the plot, so don\'t miss out. However, Dunk is part of the top 10 Pakistani dramas 2021.