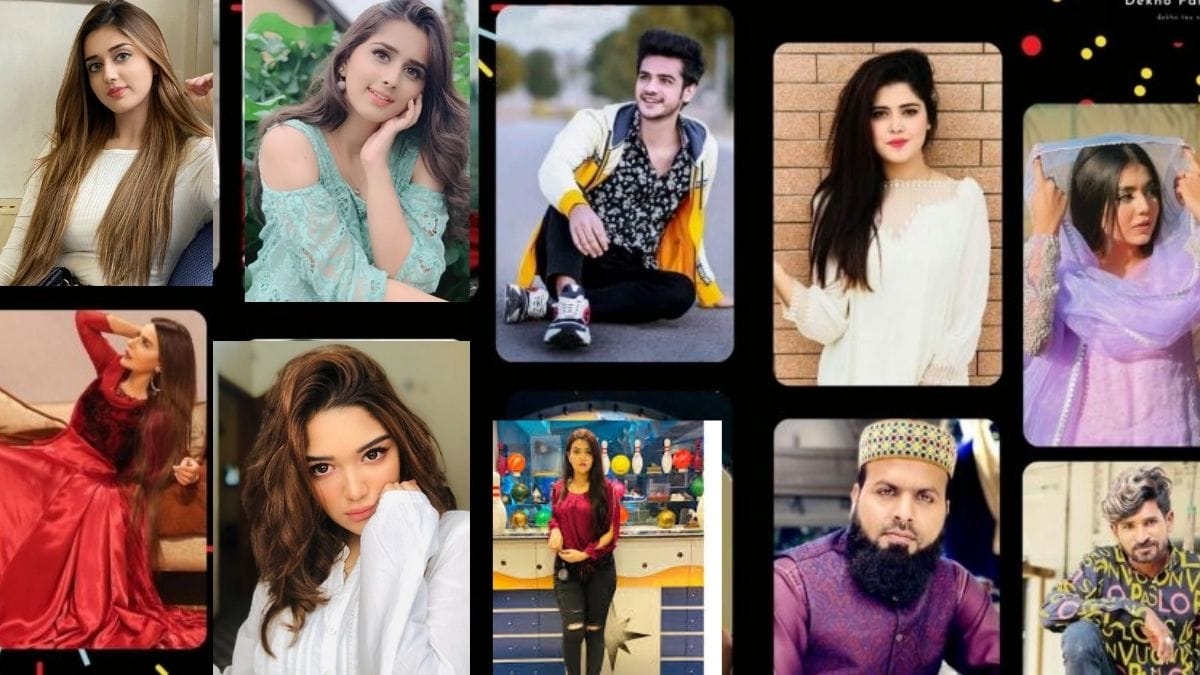 TikTok is the most popular app in Pakistan this year, with millions of Pakistanis viewing it. At the same time, we've witnessed many people using TikTok to provide amazing entertainment and enjoyment in Pakistan. Few most popular tiktokers is on the rise in Pakistan, as it is in other nations. In Pakistan, the number of people who use this app is growing. However, there's nothing wrong with claiming that tiktokers turn into celebrities and have a sizable fan base on TikTok. Here are the Top 10 Pakistani Tiktok stars 2023. 
1- Jannat Mirza
She uses TikTok to share funny and stylish videos. Jannat, who was born and raised in Faisalabad, has a global following. She has since relocated to Japan to pursue higher studies. However, Jannat has over 419.3 million hearts on all of her TikTok videos and has 15.3 million TikTok followers.
Also Read: How to Make Money with Tik Tok in 2022 
2 –  Kanwal 
Kanwal's TikTok account has 13.6 million followers and 485.9 million likes. Her fans adore her for how stunning she is and how talented she is as an actress. Her performances on several well-known Pakistani shows also helped the TikTok star acquire some traction. However, she is also the host of a well-known show and recently famous because of her show haye moto.
Also Read: 24 Brands That Are Owned By Pakistani celebrities
Pakistan To Have Its First-Ever Original Web Series On Netflix!
3 – Zulqarnain
With his over-the-top comic TikTok videos, Zulqarnain has won many hearts. It\'s no surprise that his fan base is growing regularly because he has exceptional acting skills and a propensity for innovation. However, tikTok sensation currently has 12.7 M million followers and 647.6 million likes. He ismost popular tiktokers.
4 – Anjum Alishba
Alishba Anjum is another well-known actress and model in Pakistan who uses TikTok. Her sense of style and captivating videos have made her a household name. Alishba was also given the \'Precious\' badge by TikTok for her imaginative films. However, on her verified TikTok page, Alishba, also known as Lishay, has 12.4 million followers and 341.5 million hearts. 
5 – Usman Nasim 
Usman Nasim is a Pakistani TikToker who has gone viral. Almost all of his other videos get shared on various social media networks. With his creative and amusing content, he certainly makes a lot of people grin. However, Usman is a one-of-a-kind Pakistani creator who encourages fans to engage with him using the hashtag #famousmolvi. Usman has 390.2 million likes on all of his videos and has 10.1 million followers.
6 – Nousheen Syed (Dolly)
Dolly is another most popular tiktokers. She is a cosmetic artist and fashion designer who uses TikTok to showcase her many skills. She has cosmetic instructions, hilarious videos, and lip-sync videos on her YouTube channel. However, Dolly has 9.9 million followers and 276.6 million hearts on her Instagram account.
Also Read: Top 10 Pakistani YouTubers With Most Subscribers 2022
7 – Areeka Haq
https://www.tiktok.com/@areeka__haq/video/6969589269790739713?lang=en&is_copy_url=0&is_from_webapp=v1&sender_device=pc&sender_web_id=6971860587912070657
Areeka Haq is a Pakistani \'celebrity\' TikTok creator. She is intelligent, amusing, and attractive. Areeka\'s TikTok videos are works of art, and she might be a tremendous addition to our theatre and film industries. However, the 17-year-Instagram old\'s account has over 2.3 million followers. 9 million followers on Tiktok and 257.2 million hearts.
8 – Tuqeer Ahmed (Phollu)
What we admire most about Pakistan\'s viral TikTokers is their diversity. People from both rural and urban locations were given the opportunity to showcase their talents on TikTok. One of these profiles is Phollu. While making videos, he always has a nice smile on his face. On TikTok, Phollu became famous for his hilarious and well-choreographed videos. His followers praise his talent as well as his effortless acting in the videos. However, his Instagram handle is Phoollu ki vines, and he has 8.2 million followers and 343 million hearts across all of his videos. He is one of the most popular tiktokers.
9 – Sehar Hayat
Sehar Hayyat is a Pakistani actress and model. Her TikTok account has over 8 million followers and 236.3 million likes. Sehar can also be found on other social media platforms such as Instagram and YouTube. She also collaborates with other Pakistani TikTok stars regularly. However, She collaborations are an excellent approach to increase your audience and engagement in Pakistan.
Jannat Mirza trolled for showering money at sister's engagement
10 – Romaisa Khan
Romaisa is well-known on TikTok, but she\'s also well-known for her tv drama. Instagram is one of the other platforms where she generates content. This girl is well-versed in current events and quickly responds with her take on TikTok trends. She certainly knows how to interest her audience, from renowned dialogues to modern people. However, Romaisa TikTok channel has 5.3 M followers and 11.7 million likes. She is in 10th position from the Top 10 Pakistani Tiktok Stars 2022.